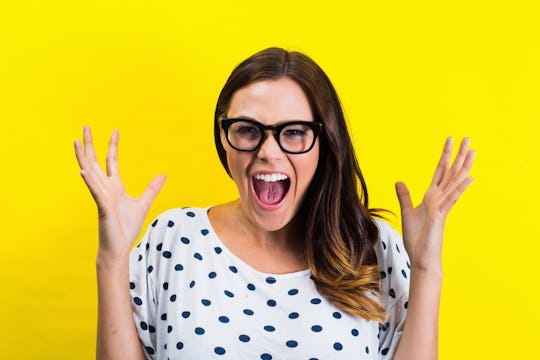 Image Source Trading Ltd/Shutterstock
9 Subtle Signs You're An Award-Winning Drama Queen
Have your teenage drama queen days followed you into adulthood? Sure, it's OK to have a minor freak out every now and then, but when others often say you're overreacting, you may have a personality problem. This could be one of the subtle signs you may be just a bit dramatic. It's better to nip these bad habits in the bud before you start to thrive on the dramatic lifestyle.
In an interview with CIO, co-author of The Drama-Free Office: A Guide to Healthy Collaboration with Your Team, Coworkers, and Boss Kaley Klemp said it's important to notice who's engaged in the drama to get at the root cause of a conflict. The more you stay away from drama, the better off you are. Additionally, Klemp said there are four primary "drama types," which include complainers, cynics, controllers, and caretakers.
If your dramatic lifestyle is taking over your life, you may have something called Histrionic Personality Disorder. According to Psychology Today, Histrionic Personality Disorder is characterized by symptoms of constant attention-seeking, emotional overreaction, and suggestibility.
Get a grasp on your dramatic personality before it has negative effects on your friendships, relationships, and overall outlook on life. Want to make a change before it's too late? Here are some hints that you may be a bit dramatic.