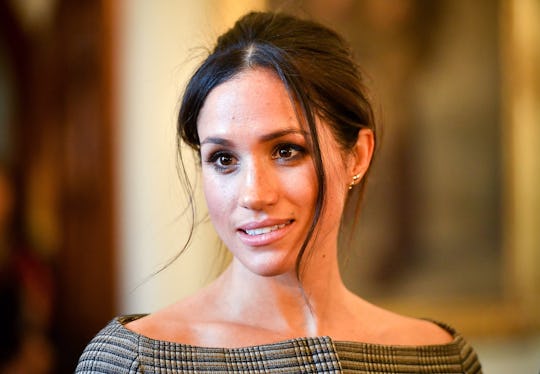 WPA Pool/Getty Images Entertainment/Getty Images
9 Surprising Facts About Meghan Markle That Make Her All The More Lovable
Meghan Markle has been making news since well before she was set to wed a royal. In fact, her relationship with Prince Harry just might be one of the least interesting things about her. Her work, her education, her hobbies — heck, even her family tree is fascinating. These nine surprising facts about Meghan Markle will likely make you love her even more than you already did.
News broke of Markle's relationship with Prince Harry in October 2016, with The Sunday Express reporting that the two had been secretly dating for some time and a later statement from Markle explaining that the two met in July 2016. One source reportedly told the outlet that Harry is "happier than he's been for many years" and "there's definitely chemistry between them." It wasn't long before rumors began circulating that the two were getting serious. These rumors were confirmed when Harry released a statement acknowledging the relationship, as well as a plea to the media to stop defaming Markle and her family. The two were engaged on Nov. 27, 2017 and will wed in spring 2018.
While this aspect of Markle's life has been covered pretty extensively, there are a number of other things about her worth reporting on.
She Studied Communications & Was A Blogger
Much of Markle's background is in the field of acting, but that isn't where her passions have always focused. She studied communications at Northwestern University and received her degree in 2003, according to Billboard. All of that writing experience paid off when she launched her lifestyle website called The Tig. She wrote about all things food, travel, fashion, and beauty for about three years before ending it earlier this year with a sweet note to her followers:
After close to three beautiful years on this adventure with you, it's time to say goodbye to The Tig. What began as a passion project (my little engine that could) evolved into an amazing community of inspiration, support, fun and frivolity ... You've made my days brighter and filled this experience with so much joy. Above all, don't ever forget your worth -- as I've told you time and time again: you, my sweet friend, you are enough. Thank you for everything.
She Tried Out Fashion Design, Too
She took her excellent fashion sense to the bank when she collaborated with Reitmans, a Canadian retail company, in 2016 to create a collection that blended couture fashion with her own casual style.
She Worked As A Professional Calligrapher
Markle seems to be passionate about all things writing, down to the penmanship. She told Good Housekeeping that she was employed as a calligrapher. "I used to be a calligrapher for weddings and events — that was my side job while I was auditioning," she said. "I think handwritten notes are a lost art form."
She Started Doing Yoga At 7 Years Old
Along with writing and style, Markle is also passionate about health and wellness — particularly yoga. She has described the practice as being "in her blood," which makes sense when you learn that her mom taught yoga and often brought Markle along for "mommy and me" classes. She has been doing yoga on her own since age 7, according to Little Things.
She Might Be Related To Shakespeare
A yoga instructing mom is pretty cool, but Markle may just have an even more interesting relatives if MyHeritage.com is to be believed. The site's research on her background found that she is related to Shakespeare on her father's side and Shakespeare's mother's side. A spokesperson for MyHeritage.com told Newsweek, "We are not sure if Ms. Markle is aware of her connection to such eminent Britons, however, it seems that she was always destined to be a Brit."
She & Harry Are Distant Cousins
The Bard isn't Markle's only British relative. As it turns out, she's distantly related to her beau, as well. Daily Mail determined that the two of them share a 15th Century ancestor, the High Sheriff of County Durham Ralph Bowes, whose family seat was Streatlam Castle. While kissing cousins aren't big news in the world of European monarchies, the generations of genetic separation between the two make their relationship far from scandalous.
She Was A Global Ambassador
Markle has a giving heart. She served with World Vision Artist Collective as an ambassador, helping children in Rwanda to receive an education, according to Seventeen. Her passion for giving is something that she and Harry have in common — the two even met at a charity event.
Ellen DeGeneres Chose One Of Her Pet Dogs
Markle has two rescue dogs, Guy and Bogart, that she loves very much. And the story behind how Bogart joined her family is something. In an interview with Best Health magazine, Markle shared that Ellen DeGeneres just so happened to be in the same animal shelter as her and insisted that she bring Bogart home. And she did! Unfortunately, she had to leave the little guy behind in Canada when she moved to the U.K. to be with Prince Harry. But she left him with close friends in the meantime.
Serena Williams Is Her Bestie
Williams and Markle met at DIRECTV's Celebrity Beach Bowl flag football charity event in February 2014 and have been close ever since. Since then, Markle has described the tennis star as her "close friend" and "confidante." In a Q&A with Williams on The Tig, Markle explained how their bond formed:
We hit it off immediately, taking pictures, laughing through the flag football game we were both playing in, and chatting not about tennis or acting, but about all the good old fashioned girly stuff. So began our friendship.
It's clear to see why Prince Harry is so smitten with the future royal. She's smart, giving, and has a varied background. Heck, I've got quite the crush on her myself. I can't wait to see how she uses her experiences as a member of the royal family.
Check out Romper's new video series, Romper's Doula Diaries:
Watch full episodes of Romper's Doula Diaries on Facebook Watch.