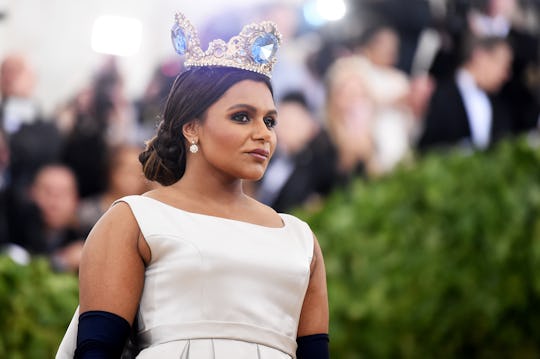 Jamie McCarthy/Getty Images Entertainment/Getty Images
9 Totally Surprising & Downright Awesome Facts About Mindy Kaling
We really don't deserve Mindy Kaling. She's hilarious, oh-so-smart, and seems to be a really great friend and one badass mom. Kaling is the whole package, and because she is so open about many aspects of her life — whether it's through her work or an Instagram Story — everyone seems to feel like they know her. But there are still tons of surprising facts about Mindy Kaling that you might not know.
She's always done so much at once, as she explains on her website. Most of us first got to know Kaling when she starred as Kelly Kapoor in the NBC sitcom The Office, but she also wrote for the show, too. Then, she created her very own show, The Mindy Project, which ran on Fox and then Hulu from 2012 until 2017.
She also co-created, wrote, produced, and stars in the show Champions, along with film roles in A Wrinkle In Time and the new Oceans 8. Oh yeah, just in case you don't think that's ambitious, enough, she also wrote two New York Times bestselling memoirs, Is Everyone Hanging Out Without Me? (And Other Concerns) and Why Not Me?
Since so much of her work is based on her actual life, it can feel like your her BFF, which is part of her charm. But here are just a few things you might not have known.
She Learned Hindi For Oceans 8
Kaling revealed on the press tour for her heist movie that she learned Hindi for the first time for the role. According to the Daily Mail, she said:
Although I'm Indian, I was not raised speaking any Indian languages. So it was incredibly challenging, and it stressed me out like every night for months before. I got a coach. It's the hardest thing I ever had to do as an actor — learn another language for a scene.
She's Named After Another TV Character
Kaling's full name is Vera Mindy Chokalingam, and her mother got a little inspiration from TV while she was pregnant, as she shared on Twitter. Kaling's mom watched a lot of Mork & Mindy back in the day and thought it was a nice name for a girl. According to Boomsbeat, she once tried to tell Williams, but he didn't believe her.
Ben Affleck Inspired Her
In 2002, Kaling and Brenda Withers wrote a play about Matt Damon and Ben Affleck's friendship, along with starring in it. The New York Times wrote of it at the time, "The play shrewdly connects to its audience by tapping into our encyclopedic knowledge of pop culture." Yup, sounds like Mindy.
She Knows What Her Legacy Should Be
Kaling once told Lena Dunham in an interview for Rolling Stone that she knows what she wants her legacy to be when she dies. According to Rolling Stone, she said her obit should read:
She threw the most amazing parties and she had the most gorgeous and cheerful husband. Gay teenagers would dress up as her for Halloween. She seemed to have read every book, yet no one ever saw her reading. She had the appetite of an Olympic swimmer and the physique of an Olympic figure skater. She dressed like Chloë Sevigny and could fuck for hours.
She Really Wants To Do A Kid's Movie
She once told Nerds of Color, "Being a mother hasn't really changed how I view the roles I take on. I think because I mostly create my own parts. I do think it would be fun to be in a great, magical kids movie. Too bad the Harry Potter's are all done!"
Mindy Loves Marge
According to The Inquistr, The Simpsons was her fave show growing up. She once told Glamour in an interview, according to the outlet:
Growing up, I remember my parents feeling a little wary of The Simpsons. This was in the late eighties and there was a wave of articles about TV shows that were bad for America. Then we all started watching it and loved it. Marge Simpson is the one who's really funny. Her character looks so crazy, but then she's supposed to be totally demure. I think Matt Groening is a genius for giving her that hair.
She Was Never Good At Being On Stage
In an interview with NPR in 2011, Kaling said:
I don't think anyone would have expected that going in front of the camera was something that I was going to do. I can't believe how little effort my parents put into making me seem like an appealing little girl. There's photos from our high school musicals, and I'm comically in the deep background, wearing a beggar's costume.
Diets Aren't A Dirty Word To Her
In the same NPR interview, Kaling said:
We always think of a diet with a big groan. But I think diets are fun. I think it is an American pastime for a lot of women. I don't know. I think that Kelly [Kapoor] thinks of dieting as a fun hobby to have.
Only Two Things Make Her Feel Guilty
She told Dunham in the aforementioned Rolling Stone interview:
I feel so guilty when I upset my father or let him down. My dad is like the dad from The Road. He knows every highway in this country and what every building is made out of. He would do anything for me, and has done everything for me. Now I'm tearing up just writing this.
She added, "I too feel guilty when I don't have knee-jerk unconditional love for all the decisions or all the art made by every woman I see. But that's OK. I think most educated and empathetic women probably feel the same way. Like, I don't like comedy shows where women play cutesy instruments as part of their comedy routine. But I don't like it when guys do that, either."
Even though we all think we know Kaling from her great body of work, she's still a mystery. Here's to learning even more about her as her career continues to unfold.