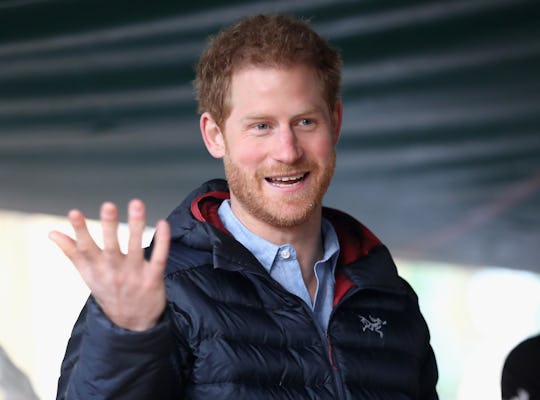 Chris Jackson/Getty Images Entertainment/Getty Images
9 Surprising Facts About Prince Harry That Might Actually Blow Your Mind
As visible as the British royal family is, there are still so many facts about Prince Harry that might surprise even his most dedicated fans. His older brother William garnered a lot of attention when he married Kate Middleton and now that Harry and Meghan Markle are tying the knot this spring, it feels like everyone wants to know all the deets about the young prince.
Harry was born on September 15, 1984 and was just 12 years old when his mother died in 1997. He went off to Eton College in 1998 and attended until 2003, later he went onto the Royal Military Academy Sandhurst in 2005. As a teen and college student, Harry was known as a bit of a playboy, but he was actually struggling a lot privately with mental health issues. He said recently in an interview, according to the Daily Mail, that he's only just begun to really address them.
Harry said, "I can safely say that losing my mum at the age of 12, and therefore shutting down all my emotions for the past 20 years, has had a quite serious effect on not only my personal life, but my work as well." By all appearances, he seems to be doing just fine these days. Here are some other things you might not know or remember about Prince Harry.
Harry Is Not Actually His Name
Keeping track of royal names and titles is not easy, and it turns out Prince Harry isn't really a Harry at all. Actually, his full name is Henry Charles Albert David and it's styled as "His Royal Highness Prince Henry of Wales."
His mother, however, called him her "little Spencer" since he had red hair that comes from her side of the family, according to Glamour.
He Came Up With The Invictus Games
The Invictus Games was all Harry's idea, as a way to honor wounded soldiers. He reportedly came up with the idea in 2013 after seeing the United States' Warrior Games, which is also an athletic competition for wounded soldiers. According to the website for the games:
He saw how the power of sport could help physically, psychologically and socially.His mind was made up. London would host the inaugural Invictus Games, an international sporting event for wounded, injured and sick Service personnel.
It's a cause close to heart, having served in the British Army for ten years, rising to the rank of captain. He did two tours in Afghanistan.
He's Had Some Scandals
Hey, all of us have done things we might not be totally proud of when we were younger and Harry was no different. He partied — and one time, in 2012, he made all the tabloids when he visited Las Vegas. He hung out with Olympian Ryan Lochte, had all the ladies swooning, and allegedly even played a game of strip poker. Yes, there are naked pictures of Prince Harry somewhere on the internet, according to E! News. He also once wore a Nazi uniform to a party as a joke. A bad one, of course, that he later apologized for, according to the Telegraph.
He Was Accused Of Cheating
While at Eton, a teacher told the press that she had allegedly actually done most of the school work he turned in. However, after investigating his notebooks, the prince was cleared of any cheating charges.
He Likely Won't Ever Be King
Harry used to be third in line to the throne, but since his brother has had two kids, and another one on the way, he'll be sixth in line. Not like he wants it very much. He told Newsweek in an interview:
We are involved in modernizing the British monarchy. We are not doing this for ourselves but for the greater good of the people. Is there any one of the royal family who wants to be king or queen? I don't think so, but we will carry out our duties at the right time.
He added, "The monarchy is a force for good and we want to carry on the positive atmosphere that the queen has achieved for over 60 years, but we won't be trying to fill her boots."
His Friends Are Super Rich
According to Fox, Harry's BFFs are Arthur Landon, one of the richest guys in the U.K. and Sam Branson, son of Virgin businessman Sir Richard.
His First Pet Was A Rabbit
According to Glamour, Harry was the cutest kid ever. He had a "lop eared rabbit" at the family's summer estate. He and Will used to clean the hutch all by themselves and then go check on the sheep where they would "spend hours filling their water buckers, giving them hay, and picking up the lambs.
He Used To Get Beat Up
According to The Express, Harry was bullied all the time throughout school because the other boys thought he was "smug." He also said that was beat up when he played rugby at school.
He said, "People would see me on the rugby field as an opportunity to smash me up and actually there were people in my own school during inter-house rugby competitions that would beat me up, not beat me up but would put in bigger tackles because it was me."
He's A Romantic
In his Newsweek interview, he said that he once had the Museum of Natural History stay open late so that he and Megan could have a date. I'm getting total Ross and Rachel vibes.
Prince Harry has definitely grown up into an apparently great guy. And he's just getting started.