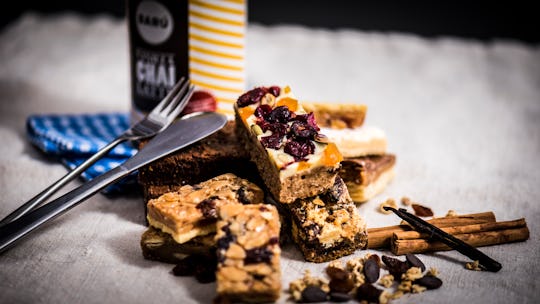 9 Surprisingly Unhealthy Snacks For Your Kids, & What They Should Nosh On Instead
We all want to feed our kids nutritious and healthy foods. Getting some protein, vegetables, and fruit on the table may not always be the easiest task, but we can feel good about a dinner of boxed mac and cheese if we throw in a side of broccoli and a few handfuls of blueberries. But what about all those snacks they are constantly asking for? Those little packages of goodies are easy for on the go, but many common foods promoted as "good for you," are surprisingly unhealthy snacks for kids.
Unless you have time to dissect every label in the snack aisle of the grocery store, you may be going on the common myth than many snack foods advertised as healthy for kids are, indeed, healthy. But hidden within many of these trusted treats are additives that tip the nutrition scale to the unhealthy side. The biggest culprit? Sugar.
Many of the ingredients found in the common snacks that children crave are increasing their intake of calories and the wrong kind of carbohydrates, while decreasing the amount of vitamins and minerals parents depend on to give their child energy and keep their hunger satisfied. With busy lives and full schedules, parents need snacks they can depend on. Learn which snacks to avoid (or eat in moderation) and which healthy options to choose the next time your kid screams, "I'm hungry!"