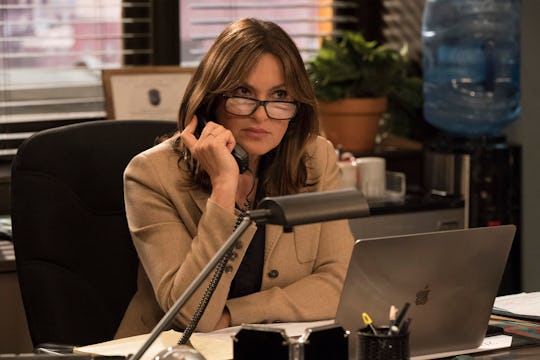 Virgina Sherwood/NBC
These 9 Memes Celebrate 20 Seasons Of 'Law & Order: SVU'
Law & Order: SVU has been one of the most beloved installments in the franchise for a long, long time. In fact, its 20th season is set to premiere soon. That's right: this show has been on TV for two straight decades, giving you something reliable to watch no matter what hour of the day it is. This show is a legal adult now. In a year, it will be able to drink. So here are 9 SVU memes to celebrate Law & Order SVU's 20th anniversary, because there's no better way to celebrate than with a meme.
SVU returns for Season 20 on Sept. 27 on NBC with the two-part episode "Man Up / Man Down." Over the years, there have been guest stars, unexpected moments of inappropriate comedy, genuine heartbreak, and countless Mariska Hargitay haircuts. And there might be many more, because at a Paley Center event, NBC's Robert Greenblatt said that the show will continue as long as Hargitay is still interested. Luckily, it seems like she'll be happy to play Olivia Benson for a long time.
"I'm just so full of gratitude and so excited that I get to do what I love to do every day," Hargitay told E! News ahead of the new season. "When you're just in it, it's hard to fully take it in. So I'm just grateful for this role, for this part, for [Dick Wolf's] vision and that I've gotten to mine a character for so long that is still deeply challenging to me and inspiring to me and necessary and timely, and I think truly changing the culture."
Law & Order: SVU has given its audience endless hours of entertainment, so here are 9 instances of the audience giving a little entertainment back.