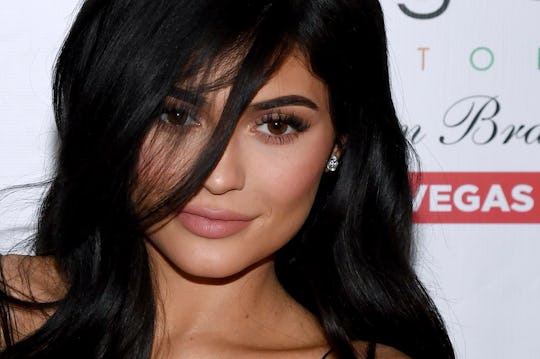 Ethan Miller/Getty Images Entertainment/Getty Images
9 Theories About Kylie Jenner's Pregnancy Fans Were Totally Right About
Now that Kylie Jenner's finally gone and had her baby, thus confirming her pregnancy after ages and ages of silence — don't think I'm ready to forgive you yet, Jenner — people have mostly forgotten about the wild theories that were flying about regarding her pregnancy. But don't worry, I definitely haven't. We can now rule out that conspiracy theory that Jenner was Kim Kardashian's surrogate, but there were actually nine theories about Kylie Jenner's pregnancy that were actually correct (or at least wonderfully coincidental).
It wasn't until Sunday that Kylie finally confirmed that her daughter, Stormi, had been born on Feb. 1, and she apologized for keeping fans out of the loop in her Instagram post announcing the news. "I'm sorry for keeping you in the dark through all the assumptions," she wrote. "I appreciate my friends and especially my family for helping me make this special moment as private as we could."
And while Kylie did keep folks in the dark, some of the theories that fans came up with — based on hints Kylie dropped or signs they saw elsewhere — were definitely true. Here's a look at some of the ones that proved retrospectively correct:
She Was Definitely Hiding A Pregnancy When She Did That Love Magazine Cover Shoot
When sister Kendall Jenner became Kylie's photographer for the Love Magazine cover shoot and mom Kris Jenner took over interviewing duties, many fans were suspicious that Kylie had something to hide. I mean, maybe this was also just a ploy to highlight Kris' and Kendall's talents — but it certainly seemed like it was part of Kylie's attempts to cover up her pregnancy without worrying about leaks.
All Those Pink Ornaments On Kylie's Christmas Tree
Everyone was certain that Kylie's all-pink Christmas decorations were a hint that she was expecting a girl, and guess what? Kylie totally had a baby girl.
Kris Totally Got Pairs Of Pyjamas For All Of Her Grandkids
When Kris shared a picture of nine pairs of Burt's Bees Baby pajamas gifted to the family, people flipped out — since at the time, neither Khloé Kardashian nor Kylie had confirmed their pregnancies. According to Seventeen, Kris explained the mismatched numbers on Steve by saying, "That's what they sent!" — but we know better now, Kris.
The Pink Donuts Were For Sure A Gender Reveal
In a January episode of Keeping Up with the Kardashians, Kylie sent all of her sisters pink donuts. Though no one has confirmed that the gifts were a gender reveal, it sure seems suspicious now that we know she gave birth to a girl.
And Those "Bun In The Oven" Snapchats Were A Clear Signal
When Kylie shared a Snapchat of three cinnamon buns in the oven, everyone was sure that she was referring to three pregnancies: hers, Kim's, and Khloé's. Perhaps she was just dealing with supreme pregnancy cravings that day, but now that all pregnancies have been confirmed (with two births already!), it seems like confirmation that Kylie was throwing her fans subtle hints.
Kylie's Thinner Pout In A Calvin Klein Ad Was Probably Due To Her Pregnancy, Too
That covered-up tummy and Kylie's possibly thinner lips might have been due to her pregnancy, as fans suspected. After all, pregnant women aren't allowed to get lip fillers — and Kylie was trying to hide a baby bump until she was ready to announce her news.
That All-Pink Manicure Was Definitely Another Hint
Folks, she was throwing people gender hints the entire time.
Kylie Was Definitely Missing From Kris's Christmas Picture Because She Was Super Pregnant
When Kris shared a Christmas card picture in mid-October, people theorized that Kylie's absence was due to her pregnancy. Considering that Kylie's baby was born on Feb. 1, chances are Kylie was definitely showing when this shoot took place — explaining why she skipped out on the shot.
She Definitely Skipped Kim's Christmas Card Pictures In Order To Hide The Pregnancy
When Kylie failed to appear in Kim's 25 Christmas cards on Instagram, fans were certain that she was pregnant and hiding it. And once again, that theory proved correct.
Thank goodness for all of the watchful Kylie fans out there — they nailed it throughout her entire pregnancy. And clearly, with all of the correct theories out there, some of them should probably consider a career change into detective work.