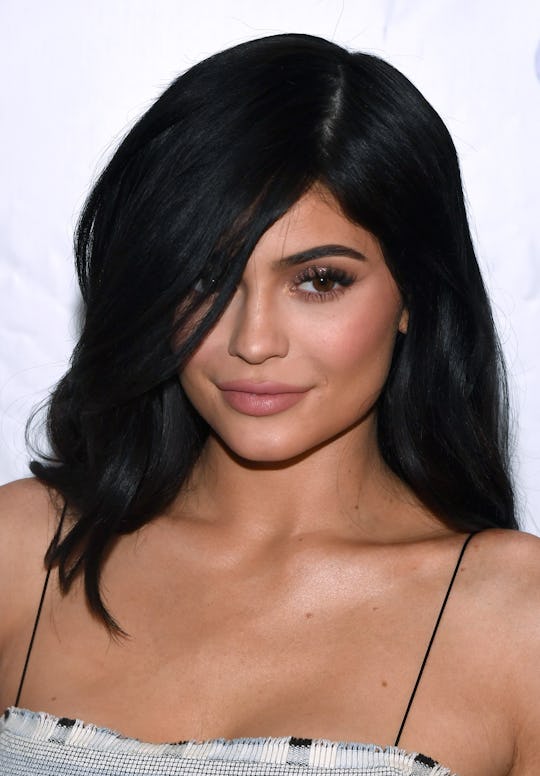 Ethan Miller/Getty Images Entertainment/Getty Images
Fans Have So Many Theories About Why Kylie Jenner Wasn't In The Kardashian Christmas Card
The Kardashian Christmas card has officially wrapped up, guys, and Kylie Jenner went and surprised us all by not making a single appearance throughout the month. Many had expected a reportedly pregnant Jenner to top off the card on Christmas Eve or Christmas Day with a pregnancy reveal, but the holiday came and went with not a single Christmas card sighting of the youngest Kardashian-Jenner sister. And since she wasn't spotted, fans are, of course, already coming up with theories about why Jenner wasn't in the Kardashian Christmas card.
Jenner may have hoped that, by lying low this December, she'd be able to keep attention away from her and her reported pregnancy. But the 20-year-old's decision to stay out of the spotlight has only further fueled rumors, which have circulated widely since late September, that Jenner and her boyfriend, rapper Travis Scott, are expecting their first child. Neither of the two have confirmed the news, and Jenner's famous family has also stayed mum on the topic, so the internet has been busy constructing their own theories as to what's going on in Hidden Hills, California.
Here are just a few of the best theories floating around:
She's Totally Already Married To Boyfriend (Husband??) Travis Scott
If she's no longer a Kardashian, she can skip out on the Christmas card no problem, right?
Sister Khloé Kardashian Is Covering Up For Her
This one is clearly a popular theory, people. Those Kardashian-Jenners stick up for one another.
She's A Surrogate For Sister Kim Kardashian
This theory has actually been around since the Jenner pregnancy rumors first started.
... Or For Khloé
Maybe Khloé isn't the one covering for Jenner. Maybe Jenner is actually helping Khloé out, instead.
Momager Kris Jenner Is Up To No Good
The whole world already knew that Kris Jenner and her daughters know how to keep the media on their toes — but this is some next-level stuff right here. According to this theory, the Kardashian-Jenners clearly have a plan in mind to use Jenner's reported pregnancy for views, and they're killing it.
She's Not Pregnant — But This Media Circus Is Great For Their Show
This is the theory I'm banking on. Jenner isn't pregnant at all — she's just super fed up with having to dismiss rumors that she is on a bi-monthly basis — so she and her family are just milking this latest rumor for all its worth. If she steps out after several months with no baby and no pregnancy, no one will ever write about a rumored pregnancy without her confirmation again. (Or, you know, they'll all die convinced that Jenner has a kid hidden somewhere in the shadows, which could really happen.)
The Kardashians Have Simply Evicted Jenner From The Family
The holidays are stressful for all families, you guys. Even the famous ones.
The Christmas Eve Card Is Actually One Giant Clue
Look at everyone's eyes shifted to the side — they're totally looking at Jenner and her newborn baby. Everyone looking forward is fairly serious, while everyone looking over at Jenner and her baby are ecstatic. (I'm not counting the kids' expressions in this photo for the theory, of course, since we all know how difficult it is to make children pose for any pictures at all.)
The Grimmest Conspiracy Theory Of All
Well, that took a dark turn. However, the whole family seems just a bit too cheery in the Kardashian Christmas cards for anyone to place too much faith in this theory.
No matter what's going on, it's clear that fans are super, super invested in Jenner's disappearance. Maybe she's pregnant with her own baby, carrying one of her sister's babies, or, you know, has just full-on morphed into a Christmas tree to avoid the public eye. Either way, we're all ridiculously curious about the Kardashian-Jenners right now — so mission accomplished, Jenner. Mission accomplished.
Check out Romper's new video series, Romper's Doula Diaries:
Watch full episodes of Romper's Doula Diaries on Facebook Watch.