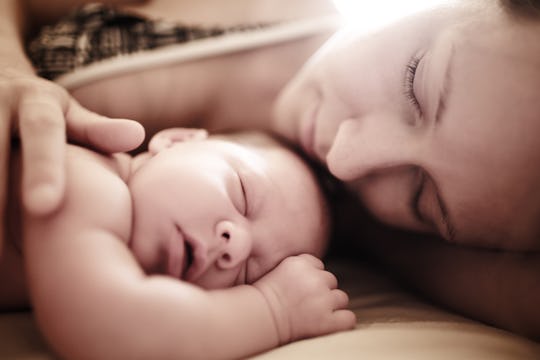 Konstantin Sutyagin/Fotolia
9 Things Every Mom Should Know Before Co-Sleeping
Co-sleeping wasn't something I planned on; it sort of just happened. It was at the point when I was so tired that I would do anything to squeeze in even five extra minutes of sleep. And, full transparency, I didn't do any research before I brought my little one into bed with me. Even though all worked out well, this was not a smart move. There are things every mom should know before co-sleeping that are important to make sure everyone — especially the baby — stays safe and sleeps well. Because not all sleeping environments are created equal.
Sometimes called bed sharing, co-sleeping means having the parents and baby in the same bed. To some this sounds like an opportunity to be cozy and bond, yet others shutter at the idea, worrying they will never be able to sleep soundly with a baby right next to them. It's a very personal choice, and needs to be agreed upon by both parents in order to be successful. Having this discussion and making a decision before the baby is born is a good idea, but keep in mind, your baby's needs may change, meaning your sleeping plan may get flipped on its head.
When sorting out your thoughts on where your baby will sleep, consider these nine things every mother needs to know before co-sleeping to help you make an informed decision.