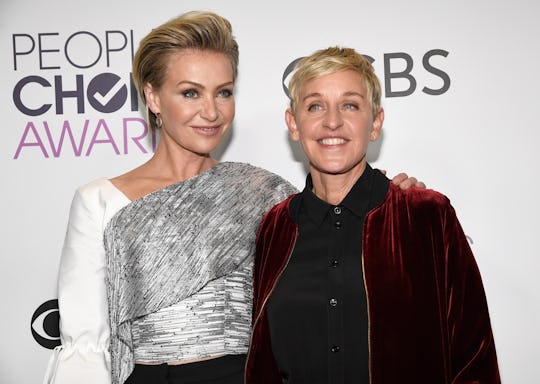 Kevork Djansezian/Getty Images Entertainment/Getty Images
Here Are 9 Things Ellen DeGeneres Revealed In 'Relatable'
Ellen DeGeneres revealed a lot about herself in her Netflix comedy special Relatable, which was her first since 2003's Here and Now on HBO. After sharing the layout of her award-strewn mansion, she delved into career highs and lows while airing her grievances and gently poking fun at her own image. These 9 things fans learned about Ellen DeGeneres from Relatable prove that she's not very different from her public image at all. And she can still be totally relatable.
That question is what opens the special. When DeGeneres was considering a return to standup, a friend of hers questioned how relatable she still was. After all, she was a huge success by any metric: she'd spent 15 years on one of the most popular talk shows on TV and accrued a vast amount of money, with Forbes estimating that she earned $87.5 million in 2018 alone. She's been one of the highest paid celebrities of the last decade. But fame, wealth, and two butlers (plus a private chef, a gardener, and the aforementioned maze-like mansion) didn't change her too much — going by this comedy special, at least.
Though she's mega-famous now, DeGeneres hasn't always had it easy. In Relatable, she discusses the ups and downs of her life, letting fans get to know her in a way they might not have before.