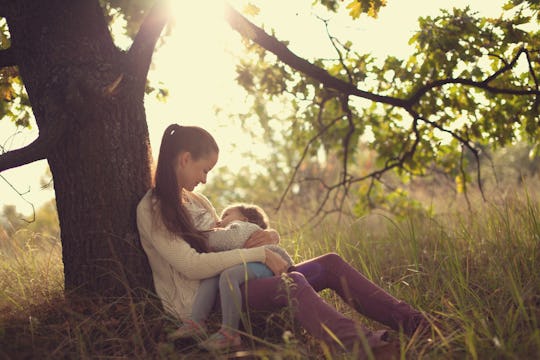 Fotolia
9 Things Pop Culture Gets Wrong About Extended Breastfeeding (And The Moms Who Do It)
I can't tell you how many times I baby wear one of my children, mention my midwife, or (especially) nurse my toddler and someone asks me, with an almost sly smile, "Hey, have you seen Maggie Gyllenhaal in that Away We Go movie?" I laugh and I give a little eye roll and say, "Yeah, I'm a big hippie." I'm never offended or even annoyed, really, but it's still getting a bit old. Pop culture's depictions of extended breastfeeding (which is generally defined as nursing a child past the age of 12 months) are superficial at best, usually meant to elicit a laugh or a horrified gasp.
I think we all remember where we were when we first saw Lysa Tully breastfeeding on Game of Thrones and how the internet exploded as a result. In short: pop culture almost always depicts nursing a child (older than a very small infant, anyway) as a short-handed way to reveal something about a character or story beyond that character simply breastfeeding. Often, it's indicative of a mother being a smug, "crunchy" mom or a stiflingly neurotic or fundamentally flawed on some sort of psychotic level. Sometimes, you hit the jackpot and extended breastfeeding is used to reveal all of the above.
This does a disservice to "breastfeeding culture" in America. The American Academy of Pediatrics recommends exclusively breastfeeding, when possible, to six months old and continuing to nurse until one year. The World Health Organization suggests nursing until 2 years of age. Both recommendations far surpass what most American people will see in their daily lives, since most babies are weaned before six months. So, when extended breastfeeding is portrayed as "bizarre" or "gross " or even "damaging," there's a problem; not just for the women who are currently extending their breastfeeding journey, but pregnant women who are contemplating breastfeeding and how long they're willing (and able) to breastfeed their child.
The following are a list of misconceptions about mothers (and children) who breastfeed beyond one year old, perpetuated by pop culture, that I would like to clear up and, eventually, never see again so I can breastfeed my toddler without the inevitable gasp or inappropriate question or horrified stare. I mean, a mom can dream, right?