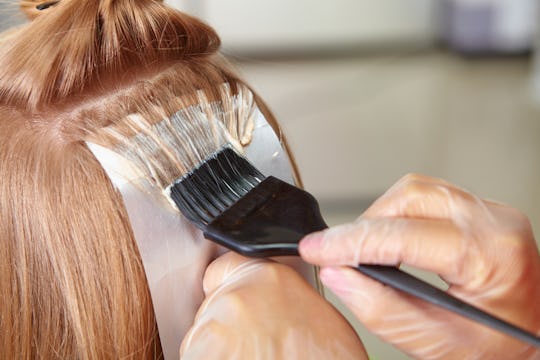 AlexOakenman/Fotolia
9 Things To Consider Before Dyeing Your Hair
It seems like not too long ago, women felt the need to keep their dyeing habits a secret, insisting their fiery red hair or platinum blonde strands were natural. But nowadays, people are proudly rocking every color of the rainbow in their locks. All the Instagram and Tumblr pictures of beautiful pastel shades and sophisticated ombres probably have you thinking about changing things up yourself. Whether you're looking into some subtle hues or you want to make a drastic leap and do a vivid neon, there are some things to consider before dyeing your hair.
Unless you're Nicki Minaj or Kylie Jenner, you probably don't have a plethora of colorful wigs at your disposal to switch up to a new look every week. So it's good to remind yourself that coloring your hair isn't always quite as temporary or easily changed as swapping out wigs can be.
By doing a teensy bit of research before heading to the salon or hair color aisle of your local beauty store, you're saving yourself time and money by not having to have someone fix an avoidable mistake. Nothing's worse than looking in the mirror after your hair's done only to be unhappy with the results. So check out the top things you should know before you color your hair.