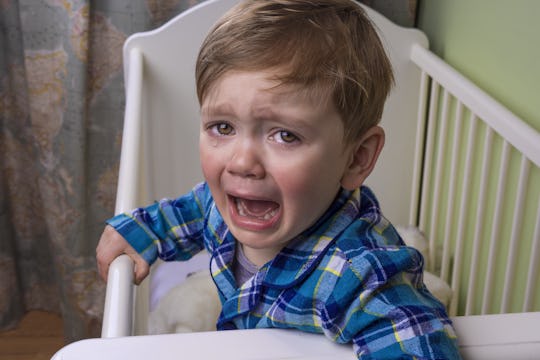 Shutterstock
9 Things To Know About Sleep Regression In 1-Year-Olds
Big milestones can turn your nights (and maybe even your days) upside-down when they disrupt your child's sleep. One of the biggest milestones? Learning to walk, which happens right around age 1. There are some things to know about sleep regression in 1-year-olds that can help you understand why it is happening, and how to get your cranky baby back to sleep.
"Certain milestones (like learning to walk, or toilet training) may be associated with temporary sleep disruption," explains Dr. Craig Canapari, a pediatrician and author of It's Never Too Late to Sleep Train to Romper over email. "The former does tend to occur around one year of age."
That is, what are often termed "sleep regressions" are not developmentally as hard-coded as you might think. Although, says Canapari, "Telling this to a tired parent whose baby had previously slept well is not particularly helpful."
Even though it can be a nightmare to deal with a baby who is waking in the night, the good news is that sleep regressions are totally normal, and usually short-lived. "Just when you have a handle on a certain behavior (feeding, sleeping, toilet training), your child will change their routine and you will be scratching your head," says Canapari. By the same token, they will leave behind a difficult phase and return to being the sound sleepers you remember.
If you are in the middle of a sleep regression, or if your baby is approaching their first birthday, here is some helpful information you will want to know.