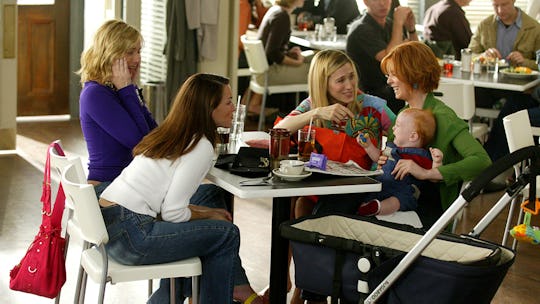 9 Things You Can Do To Help A New Mom That Actually Help (Hint: "Holding The Baby" Is Not One Of Them)
I was the first person among my friends to have a baby, so when my son was born, everyone was really excited. As soon as they heard he'd popped out, they wanted to come over, hug me, cuddle him, and silently judge if he was actually cute or if I had told them over the phone he was because I was blinded by all those new mom hormones. (I wasn't. He was devastatingly beautiful, ask anyone.) And because they're all completely amazing, they immediately threw out offers to help me in any way they could. 
As a new mom, you are sometimes at a loss when it comes to telling people what you need. For starters, this generosity comes at you fast and furious, often when you're still in the hospital where the nurses do everything for you and you haven't had a chance to figure out what life with this new little person is like. So when you say "nothing" or "I don't know," people do what they think will help you out, even if what they think is helpful might actually wind up being way more stressful. 
Obviously you never want to look a gift horse in the mouth, but sometimes you'd rather someone not bring you the gift horse in the first place, ya know? It's like, "Ummm… it's very nice that you want to give me this horse, but I live in a fifth floor walk-up and I don't think the horse will even fit up here. And, if we're being perfectly honest, I think this is a sanitation issue because that horse does not appear to be housebroken… except that he is obviously going to break everything in my house." That may be carrying the horse metaphor a bit too far, but you get the gist.
"So wait!" you, eager friend of the newly-babied, say, "I don't want to wind up doing more harm than good! I want to help my friend. What can I do to help her out during this exciting and difficult time?"
Well, I'm so glad you asked!