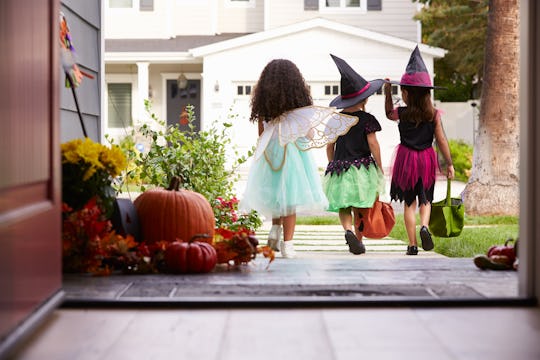 Monkey Business/Fotolia
9 Things You Think Are Safe On Halloween, But Probably Aren't
As Halloween approaches, you're more than likely running around gathering pieces for DIY costumes, buying trick-or-treat candy, and (hopefully) pausing to watch a few Halloween classics before getting back to costume planning. In the midst of the Halloween hustle though, it's important for parents to think through a few of the things you may think are safe for Halloween but actually aren't.
Of course, Halloween isn't usually considered an "unsafe" holiday — it's a chance to get dressed up, go trick-or-treating, and eat copious amounts of candy while watching scary movies, right? But, like any holiday or event, in order for everyone to enjoy the holiday without worry or accident, taking a few precautions in advance is a good idea (read: v necessary.)
Some of these precautions may seem silly, or even overly protective, but as a parent, you can never be too careful, since you know your kids aren't likely to take these precautions for themselves. Whether you're a class A helicopter mom or the type that prefers to live and let live, thinking through Halloween safety should be priority number one.
Whether it has to do with costume safety, the snacks you bring home, or the neighborhood you explore while trick-or-treating, thinking about safety first will ensure that you can relax and enjoy the candy-filled night once it rolls around.