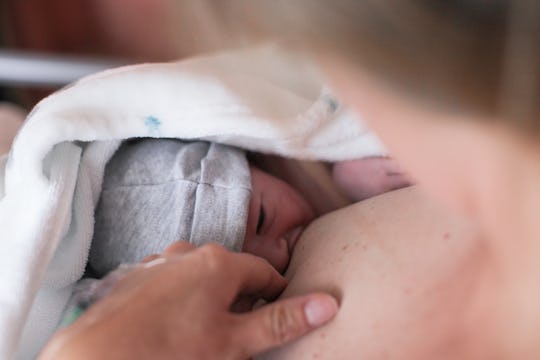 Petri Oeschger/Moment/Getty Images
Here Are 9 Things Your Lactation Consultant Wants You To Know About Latching
Breastfeeding doesn't always come easy to new moms. Sometimes it takes a bit of (frustrating) trial and error. To make it easier on you, whether physically or mentally, there are some things to know about latching that could make a big difference in your success during the early days of nursing. The most important thing to remember, though, is that it's completely normal to need some help.
Plus, experts say moms shouldn't panic if their baby doesn't latch right away. "Getting a deep latch, a great seal, and babies lips to flange on the breast can be tricky at first," lactation consultant M. Rachael Birkenhauer, IBCLC, tells Romper. "You have never breastfed and baby has never breastfed," she adds, so there will be a learning curve for both of you. It's also important to remember that the process is different for everybody. "Every mother and baby fit together in their own way, some facing more complex challenges than others," lactation consultant Natalie Ward, BS, IBCLC, RLC, tells Romper.
As the Office of Women's Health reported, there are a number of factors that could be contributing to the latching struggle, such as your strong-willed baby's frustration, a weak suck, or being tongue-tied. The Special Supplemental Nutrition Program for Women, Infants, and Children (WIC) suggested small changes moms can make to help encourage latching, like moving to a quiet place with minimal stimulation and allowing your baby to take the lead.
Both of these organizations ultimately suggest women meet with a lactation expert to get extra support when it comes to latching. In the meantime, Birkenhaur and Ward say there are several pieces of advice they give to clients who are struggling, and would love all new breastfeeding moms to know.