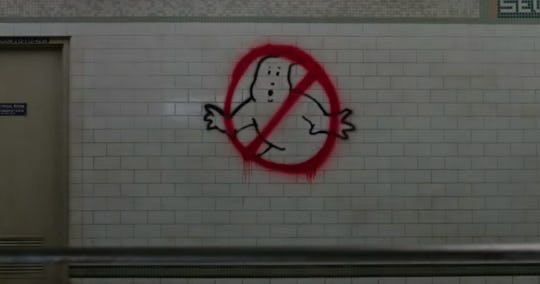 Sony Pictures Entertainment/YouTube
9 Throwbacks To The Old 'Ghostbusters' In The New 'Ghostbusters' That Are Brilliant
There's a right way and a wrong way to reboot a movie franchise. Reboots aren't sequels, and as such, they don't treat the original films as canon, but assuming the originals weren't reviled, it's always a classy move to include a few nods. Don't forget your roots, and all that. I'm happy to report that the Ghostbusters reboot contains several throwbacks to the 1984 original, and even a couple of maybe-not coincidental nods to the sequel (sorry, no Bobby Brown cameo).
Some fans of the original Ghostbusters were understandably apprehensive that the reboot wouldn't honor its inspiration properly, but as a fan of all three Ghostbusters movies and The Real Ghostbusters cartoon, I assure you, it does. It's not a blatant copy of the 1984 film, nor is it too far of a departure. Some of the references are subtle, while others practically slap you in the face. But that's in keeping with the original, which featured both sly and over-the-top humor.
Sci-fi fans have had their hopes dashed before, of course. But the Ghostbusters reboot wasn't Darth Vader as a pod-racing tot (thanks, George Lucas), this was Princess Leia as a badass general (thanks, J.J. Abrams!). Paul Feig has done fans proud, reviving the series we hold so dear. Read on for some of my favorite references to the original (minor spoilers ahead).