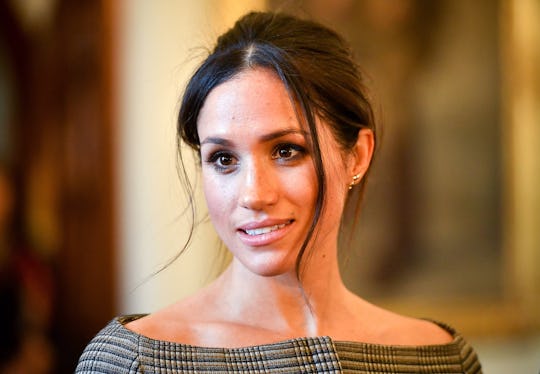 WPA Pool/Getty Images Entertainment/Getty Images
9 Times Meghan Markle "Broke" Royal Protocol
Life must seem like an extremely bizarre and wonderful dream to Meghan Markle right now. The American actress will soon marry Prince Harry, culminating a courtship that confirmed fairytale love does exist after all. Now, Meghan Markle keeps "breaking" royal protocol as she adjusts to her new role. To nobody's surprise, the British royal family has an extremely regimented set of standards and guidelines applying to everything from fashion to food, and Markle has made a few headlines for deviating from tradition, either intentionally or not. Honestly, it all just makes me love her even more.
Markle, who was previously well-known for her role on Suits, will marry Prince Harry on May 18, 2018, at St. George's Chapel at Windsor Castle, so she's not officially a royal for the next few months. But ever since she and Prince Harry announced their engagement in November, the world has treated her like one, and she has been acting in kind. She and Harry released some stunning engagement photos and have begun appearing together in public with much greater frequency. Still, she's exhibited a few breaks with the royal traditions — some over which she has no control, some which she's probably just getting used to, and some which it seems she has no intention of following. Here are nine times Markle "broke" protocol.
Holding Hands In Public
Any ardent fans of Prince William and Catherine, Duchess of Cambridge, have probably noticed that they don't tend to engage in public displays of affection, even when it comes to small things like holding hands, because they consider themselves "at work." According to Fashion Magazine, the two of them "have been photographed holding hands less than a dozen times in the past 10 years." Meanwhile, Markle and Prince Harry are totally touchy-feely. It's not in a weird, making-everyone-else-uncomfortable-with-some-intense-frenching way, just in the way that most of your totally-in-love friends would act while walking down the street on a random afternoon. Still, it's out of character for the royal family.
But that may be changing, and it wouldn't be a bad thing. As British monarch expert and Boston University history professor Arianne Chernock told TODAY about Prince Harry and Meghan Markle's public affection, "There are no rules about this, there's just precedent. The next generation of royals are more willing to push the boundaries."
Giving Autographs
When Markle met a young girl who had waited outside Cardiff Castle for hours in the hopes of seeing her, Markle gave 10-year-old Caitlin Clark an autograph, according to Hello! Magazine, making Clark's day. Super-sweet and adorable, right? Well, not according to royal protocol.
Royals are supposed to politely decline autograph requests, so that their signatures are less likely to be forged. Somehow, though, I don't think Clark will be selling Markle's signature to the highest bidder. I have a feeling she'll be treasuring that autograph forever.
Messy Buns
People are loving Markle's frequent messy bun hairstyle, but as it turns out, that too goes against royal protocol. Royal women are supposed to appear with their hair impeccably styled at all times, according to People. But come on. It's 2018. I'm all aboard the messy bun train.
Forgoing Nude Stockings
In her engagement photos, Markle seemingly went bare-legged, instead of wearing the traditional nude stockings. As royal expert Victoria Arbiter told INSIDER:
You never see a royal without their nude stockings. Meghan, from what I can see from the engagement photographs, it doesn't look like she was wearing tights or stockings. I would say that's really the only hard, steadfast rule in terms of what the Queen requires.
Christmas With The Queen
Speaking of the Queen, it turns out that she actually gave Prince Harry and Markle permission to break another piece of protocol, according to Harper's Bazaar. Fiancées don't usually spend Christmas with the Queen — Kate Middleton certainly didn't — but Prince Harry asked for a special exception this year, since Markle doesn't have family in the United Kingdom and also, they're totally in love and wanted to be together on Christmas, the publication reported. The Queen seemed totally happy to oblige.
Her Divorce
Markle has been married once before, to film producer Trevor Engleson, according to Town & Country. It used to be forbidden for royals to marry someone who was divorced, but times have changed. Now, royals don't have to abdicate their positions to follow their hearts. And thank goodness for that.
Her Handbag
Markle went out and about carrying a handbag with straps, instead of the traditional clutch, which seems like such a small thing that it couldn't possibly violate royal protocol, right? Wrong. Apparently, royals are supposed to carry clutches, so that they have an excuse not to shake hands with people with whom a handshake might be awkward or bad, according to Harper's Bazaar. Actually that's a great pro-tip for avoiding contact, and I may steal it.
Her Religion
Unlike the royal family, Markle isn't Anglican. In fact, she went to Catholic school, and, interestingly enough, royals have only been allowed to marry Catholics for just a number of years, according to Channel 4. Luckily, the rules were changed. Still, Newsweek reported that Markle will be baptized in the Church of England anyway in order to honor Queen Elizabeth.
Her Mother *Might* Walk Her Down The Aisle
Us Weekly reported that Markle planned on having her mother walk her down the aisle, instead of her father, which sounds like it could be a lovely and meaningful moment. Still, it would be a definite break with tradition, as the publication reported, and — it should be obvious by now — the royal family really cares about tradition. So who knows what will end up happening?
Sure, Markle and Prince Harry may "break" some royal protocol here and there, but they don't seem to be hurting anyone. If anything, maybe they could actually help the royal family enter a new, more relatable age. I'm here for it all.
Check out Romper's new video series, Romper's Doula Diaries:
Watch full episodes of Romper's Doula Diaries on Facebook Watch.