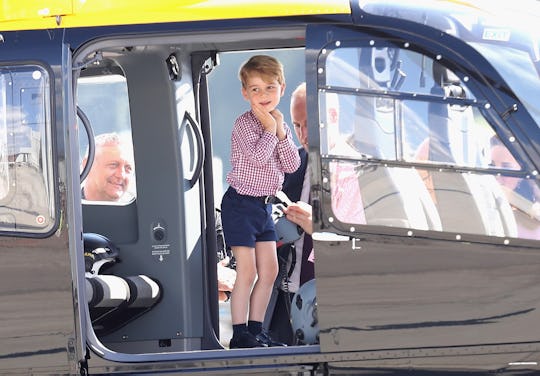 Chris Jackson/Getty Images Entertainment/Getty Images
9 Times Prince George Reminded Everyone He's Just A Cute Kid
Looking at photos of the British royal family, sometimes it's easy to forget that they're actually human. They're always so poised and reserved at their public appearances, even the children. But there have been a few instances when Prince George reminded everyone he's just a kid who has to let loose and have a little fun (or a little tantrum). Beneath those fancy cardigans and short pants is a regular 4-year-old boy who wants to run and jump and play. He just happens to live in a castle and will one day become the King of England, that's all. NBD.
Case in point: there's that time last summer when he got to climb inside a real helicopter, fiddle with the controls, and even try on a helmet. And just like every 4-year-old you and I have ever met, he just couldn't even. If your town ever has one of those "Touch a Truck" events where kids can try their hand at operating a backhoe or explore the inside of a fire engine, you know that look all too well. That event got a lot of attention, but it's not the first time His Royal Highness shared his wild side with the world.
He Loves Christmas
At a royal Christmas party in 2016, Prince William revealed that his son had already started opening his gifts — without permission — a week before the holiday, according to Vanity Fair.
Including The Decor
In an upcoming nature documentary with Sir David Attenborough, Queen Elizabeth is shown chatting with a servant about the Christmas tree he's just painstakingly trimmed with ornaments. "Yes, that is always the problem," she said, according to Elle UK. "The children love knocking those off." That little punk!
He Acts Up At Functions
At his aunt Pippa's wedding last year, cameras caught his mom giving him a serious scolding, and the subsequent tears it caused. According to People, he got busted for messing around with the train of Auntie's gown.
He's Kinda Rambunctious
At a 2015 charity polo match, George wasn't interested in the game. He was seen kicking a ball, playing with a toy car, and even rolling around in the grass, according to the Telegraph.
He Was Born That Way
George has reportedly been a wild man since he was tiny; at a 2014 ceremony in honor of the Centenary Fields Project, which promotes the protection of green spaces by installing war memorials, William told onlookers that George, who wasn't even a year old at the time, that he was already "charging around and opening doors," according to the Daily Mail. Most kids can't work a doorknob until they're two or three, but George just couldn't wait to start getting into trouble.
He Loves A Parade
At the Trooping of the Colour last year, a ceremony in honor of the Queen's birthday, George was so entertained by the festivities outside his window, he forgot to put on his fancy-man face. Too cute!
He's Stressing Out His Parents
At a 2016 reception hosted by the Welsh Rugby Charitable Trust, William admitted that both of the kids were tearing it up on the regular, according to the Mirror. "No broken bones yet," he said, "but they're trying. Running around, pushing things, jumping. Please tell me it gets easier."
He Wasn't Allowed To Go To India
A couple months later, his parents visited India, and when Kate was asked why the kids didn't tag along, she said it was "Because George is too naughty," according to In Style. "He would be running all over the place. The next time we come we will definitely bring them."
His First Day Of School
Look at him wiping his little nose! He's adorable! If he's going to be in charge of England, I'm totally OK with going back to being a colony.