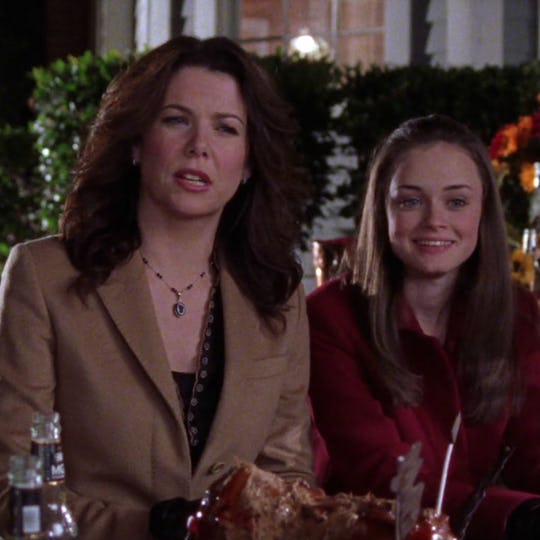 9 Tips For Eating Multiple Thanksgiving Dinners, Courtesy Of 'Gilmore Girls'
It's the night before Thanksgiving, and the panic of having to attend and eat multiple Thanksgiving dinners is starting to set in. Saying no to a Thanksgiving invitation is unbelievably hard, especially when you're really looking forward to Aunt Margaret's sweet potato casserole, and your best friend's mom's bourbon-pecan pie. Don't even get me started on the deep fried turkey. There is only one duo who can guide you through this epic day of eating: the Gilmore Girls.
If there's one lesson I've learned from years of being a die hard Gilmore Girls fan, it's how important a well-balanced diet of pizza, coffee, and Pop-Tarts is. Who needs men when you have Chinese food, am I right? The piece-de-resistance in Gilmore Girls eating lore is, of course the Season 3 Thanksgiving special, "A Deep Fried Korean Thanksgiving." Together, Rory and Lorelai are expected at not one, not two, not three, but four Thanksgiving dinners. Eating four Thanksgiving dinners is a feat, even for well seasoned binge-eaters such as Rory and Lorelai.
Hopefully, your situation isn't quite as extreme as the Gilmores' was that fateful Thanksgiving. But just in case? Here are nine well practiced tips to get you through the day (without blowing out a seam in your pants).