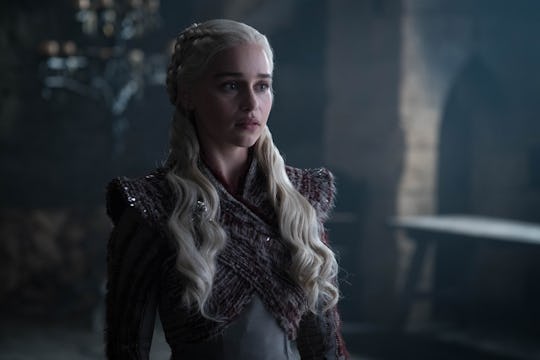 Helen Sloan/HBO
That'll Be A Grande Pumpkin Spice Latte For The Mother Of Dragons
After the devastation of the Battle of Winterfell, the lords and ladies of Game of Thrones decided to celebrate their victory with a little party. It had everything a feast should have: good conversation, peer-pressure to drink out of a horn, romantic tension, and Starbucks. That's right, if you looked closely you could see the Mother Of Dragons enjoying something much more modern than mead. And after these 9 tweets about the coffee cup in a Game of Thrones scene, you'll never miss this anachronistic drink again.
The coffee cup appears while Jon is hanging with Sansa and Tormund, who is attempting to get Jon to chug ale until he pukes (you know, for fun). Daenerys, meanwhile, sits alone at the end of the table experiencing FOMO at her own event. And right there in front of her is a little Starbucks cup. What would Dany's order be? Pumpkin spice seems like the obvious choice, but maybe it's no longer on offer now that winter is here. A gingerbread latte, perhaps?
But the position of the cup does throw ownership into question. It sits between Dany and Jon's empty chair, which means it could belong to either of them. And Dany is clutching a tankard already, so it looks like the erstwhile King in the North might actually be the caffeine enthusiast. Twitter, what say you?