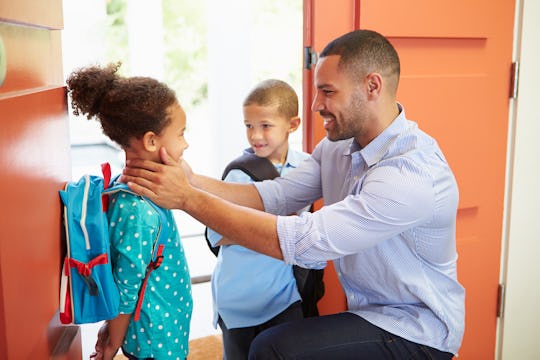 Monkey Business/Fotolia
9 Ways Dads Can & Should Help With Your Back To School Routine
I'm not sure how this is possible, but somehow preparing for the back to school season is more stressful when you're not actually the one going back to school. When I was a kid, I wasn't exactly stoked when summer ended. Yet, now that I'm a parent, I am experiencing an entirely different level of anxiety, dread, and worry as autumn approaches and I'm getting my own child ready. That's why it's so crucial for partners and your support system to be involved. There are plenty ways dads can and should help with your back to school routine.
Plenty of parents I know, except for those who are teachers, celebrate the beginning of the school year like they just won a car from Oprah. Though it can be a relief to get back some of the free time you missed during the summer, shopping for backpacks, preparing lunches, and arguing over outfits is just another side of the same token.
No matter if this is your first, second, or, "I honestly stopped counting," day of the school year, it never hurts to have a little assistance. So check out these ways your partner can (and should) help with your back to school routine.