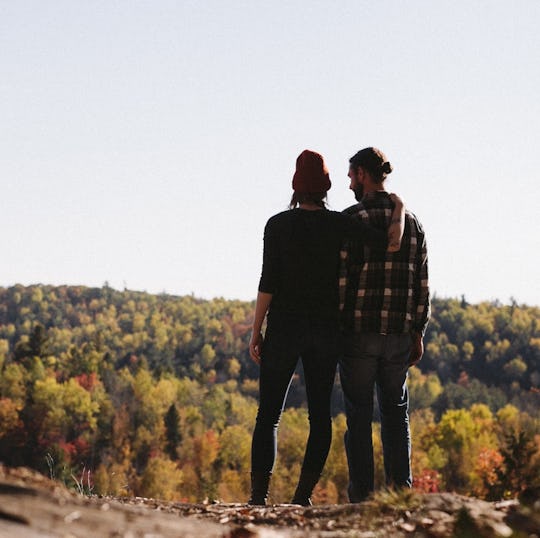 9 Ways Having A Baby Makes Your Relationship Stronger, Because You Don't Love Someone Until You Love Them With Poop On Their Shirt
When you're in a relationship, really is no bigger game-changer than having a baby. Life as you know it will change forever. This, despite what you might have heard, isn't always such a bad thing. I mean, who really needs to sleep in every weekend, right? That's what I keep telling myself, at least. But honestly, not all of the changes that having kids introduces to your life are bad. Some of them are actually really wonderful. 
I remember back when I was unmarried and most assuredly not a parent, I ran into an old friend who had met her partner later in life, and had just had two children. She referred to the fact that she was co-sleeping with her children in one bed, while her husband slept in another room. I responded politely, but my inner jaw dropped. I totally judged her. In my head, I thought, "There is no way my children will ever come before my partner! My marriage will not suffer if I have kids!" Looking back, I can see how naive my viewpoint was.
The truth is, despite the worst fears that will undoubtedly creep into your mind over the course of your pregnancy and the first months of parenthood, your life with your partner isn't over just because a baby is in the picture. In fact, the birth of a kid is, in fact, the beginning of a whole new phase of your relationship. And like every other phase of your relationship, there will surely be new challenges, and you'll probably learn about flaws each other has that you never knew about before. Sure, some of that can be hard. But it can also be exquisite and romantic. You'll also learn new strengths, and experience new joys, and explore new depths and dimensions of your partnership that were previously unknown. The dynamics can change, there's no doubt of that, but who you are together as a unit takes on so much more meaning. There is a whole new level of intimacy that opens up, when that tiny human comes into your lives. And in so many ways, parenting together does the opposite of ruining your relationship—it makes it endlessly stronger. Here's how: