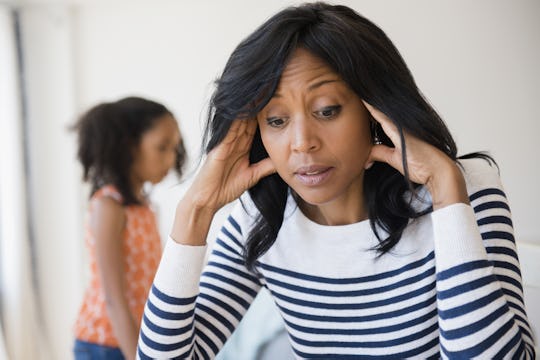 Amble Design/Shutterstock
9 Ways Stress Affects Your Parenting, According To Science
It's impossible not to feel stressed out at some point or another. As parents, not only must you deal with all of the typical issues every adult deals with, but you are also expected to keep those issues from affecting your children. It's important to recognize the ways stress affects your parenting so that you can learn how to cope for your sake, as well as for your child's.
According to the American Psychological Association (APA), adults' average stress is 5.1 on a 10-point scale, and 36 percent of adults say that stress affects their overall happiness. Parents are even more susceptible to stress. The APA found that 45 percent of parents versus 38 percent of all adults have overeaten or eaten unhealthy food because of stress, and 42 percent of parents versus 30 percent of all adults have skipped meals because of stress. Additionally, 54 percent of parents compared to 43 percent of all adults have lain awake at night due to stress.
With around half of all parents struggling with high levels of stress and anxiety, it's no surprise that it can spill over and affect the way you parent. Here are some of the ways stress impacts your parenting.