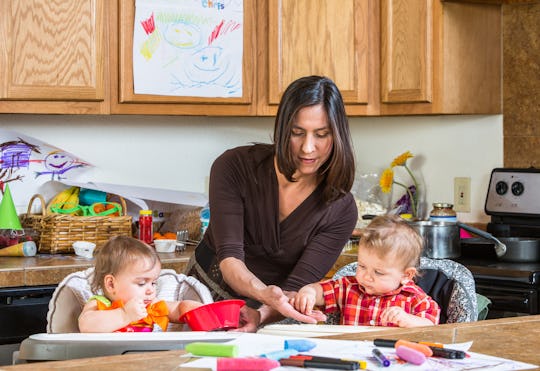 cott Griessel/Fotolia
9 Ways To Encourage Your Partner To Help Out More With The Kids
I know, I know— relationships are hard enough before you add kids to the mix. Now there's bath time, and nightly routines, and dirty diapers, and school drama, and so much laundry. Kids require a lot of work. Whether you're a stay at home mom, working part time, or have a full time job, it can be easy to feel like you're bearing the weight of the work load. If you feel like your SO could be doing more to help, there are lots of ways to encourage your partner to help out with the kids.
Believe it or not, your partner may not even know that you feel like they're slacking off. Chances are, they're assuming that you've got it covered or are (like you) exhausted themselves. While it can be frustrating to feel like you're raising a family alone, learning when and how to say something to your partner can make all the difference.
As a work from home mama with a husband who works full time outside the home, I've had this conversation many a time. I've learned that when I feel like he is intentionally leaving all the "child rearing" to me, he is usually exhausted from work, or just expecting me to ask him for help. Learning a few ways to approach the subject can show your spouse that, while you're basically super-mom, a little help now and then would be nice too.