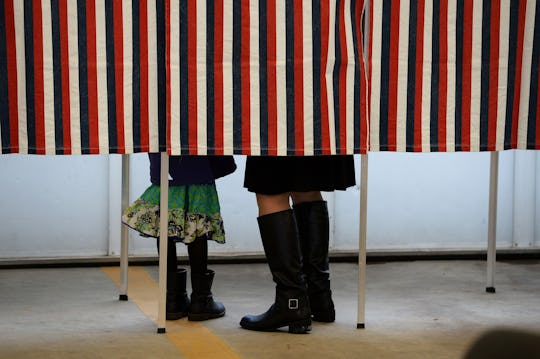 JEWEL SAMAD/AFP/Getty Images
Kids Too Young To Vote? Here Are 9 Ways To Get Them Involved In The 2020 Election
With the presidential election in full swing, there's a good chance your child has seen or heard something about it. But seeing something about being registered to vote in a commercial or overhearing opposing candidates' radio spots aren't likely to give kids a deep understanding of the voting process or the importance of it all. Thankfully, there are a number of educational ways to get kids involved in the 2020 election.
"From elementary school to high school, kids will typically only experience two or three U.S. presidential elections, and each one offers a vital opportunity for kids to learn about the democratic process, develop critical thinking skills, and understand how best to exercise their rights as active, engaged citizens," Jane Nussbaum, Junior Scholastic's executive editor tells Romper. "Family discussions about civics and politics can happen at any age and as your children grow, so can the conversations."
While introducing kids to complex topics like politics, elections, and voting can be hard, Nussbaum says it's important to tackle them. "This is critical because we know that kids are paying attention to what's going on around them now more than ever, and learning about civics is an important piece in helping them become advocates for the kind of world they want to live in," Nussbaum explains.
To get started, here are a few ways ways to get kids of all ages involved and engaged: