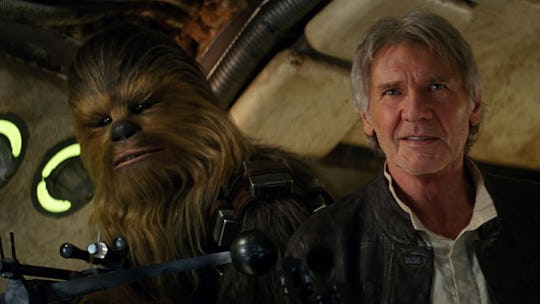 9 Ways To Get Your Kids Excited For 'Star Wars: The Force Awakens,' In Case They Aren't Already
Star Wars: The Force Awakens comes out on December 18, and fans around the world cannot contain their excitement. And if you're a die-hard fan, you will surely want your kids to be in on the anticipation as well. But without a lifetime of Star Wars fandom under their belts, how can you get your get your kids as excited Star Wars movie as you are?
I grew up watching Luke learn to use the force, idolizing Princess Leia, and wishing I could have my own pet wookie. So with a whole history of watching and loving Star Wars, I'm of course stoked about the newest movie. But for kids who haven't yet had the chance to become obsessed with the Millennium Flacon or Yoda, how could they possibly have the same excitement for The Force Awakens as they do for the new Alvin and the Chipmunks movie?
But here's what's so great about this movie coming out: The Force Awakens gives us the perfect opportunity to pass on Star Wars to the next generation. By jumpstarting a passion for Star Wars in them before taking them to theaters to see The Force Awakens, they'll be sure to get the most out of the movie and enjoy it not just as a new, cool space film, but as the continuation of a the epic story we already love. Because once they start to hum the theme song and see the fun in pretending to be a Jedi, they'll be the ones dragging you to the theaters on December 18th — dressed in full Star Wars garb, of course.