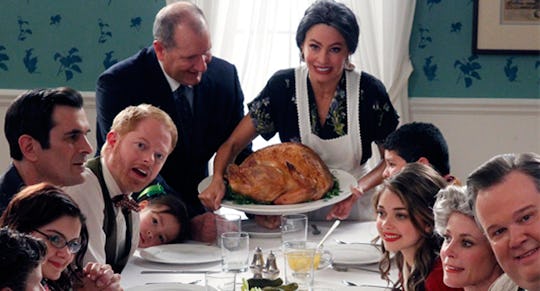 9 Ways To Survive Thanksgiving With Another Family, Because Every Family Is A Little Bit Crazy
Every family has their own quirks. By now, you not only know what your own family's eccentricities are, but they are probably so ingrained within you that you don't even realize they're idiosyncratic. That's part of what makes spending the holidays with your family so fun: you know them and you love them. But when you're spending Thanksgiving with someone else's family, you don't have the benefit of knowing exactly what kind of craziness you're walking in to.
Maybe you're spending the holiday with your in-laws for the fourth time; maybe you're tagging along with a best friend; or maybe you're going to your SO's family's place for the first time. No matter who you're going with, having Thanksgiving with a different family is a little uncomfortable and potentially stressful. Knowing how to be a polite guest and how to survive the madness is the only thing that's going to get you through. Here's 9 ways to survive it.