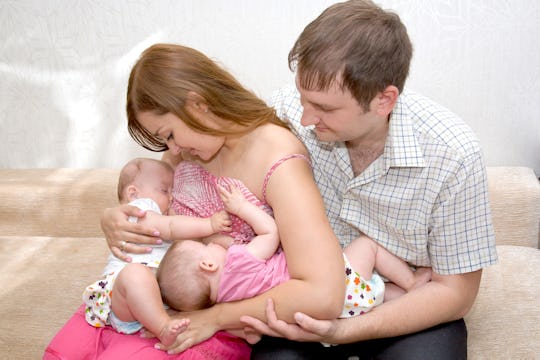 Vitalinka/Fotolia
9 Ways Your Partner Can (& Should) Make Breastfeeding Easier On You
I told myself I wouldn't start this with "breastfeeding takes a village," but I can't think of a truer way to describe the support system that's necessary to help a breastfeeding mom succeed. It really does take a village. Or at least one person who's committed to encouraging and helping you out. There are plenty of ways your partner can make breastfeeding easier on you, whether they're aware of them or not.
However, you can't expect your partner, who likely hasn't gone through pregnancy, labor, and nursing like you have, to be able to relate to the stress of trying to juggle a thousand different mommy-related responsibilities at once. So be open with your partner, because they'll never help out if they're unaware of a need. And, as much as you'd like to think they know everything, sometimes they're not as perceptive as you'd hope.
Whether this is your first time breastfeeding or you're basically a milk maven by now, every mom deserves to have someone on her team to root for her on the hard days and tell her that no, it's not obvious that one boob is more engorged than the other.
So drop a few of these hints your partner's way the next time you need a helping hand. I'm sure they'll be more than happy to oblige.