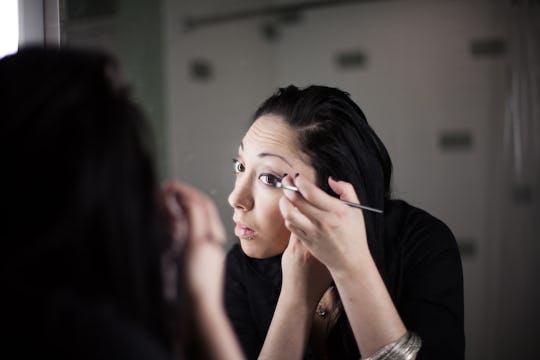 9 Ways You're Using Your Eyeliner Incorrectly, So You Can Stop Looking Like You Slept In Your Makeup
Even the most makeup savvy among us goes through it. You've just created a perfect, cat eye that would make Angelina Jolie jealous. But then you move on to eye number two, and all makeup hell breaks loose. Your eyeliner wings are completely uneven and you've ruined that gorgeous smokey eyeshadow you worked so hard on. You're left wondering where it all went wrong and in what ways are you using your eyeliner incorrectly.
When it comes to applying makeup, some products are easier to master than others. Foundation? Blend over face and avoid leaving any gaps. Mascara? Coat top and bottom lashes, usually with mouth open because it's almost impossible not to. But eyeliner? Eyeliner, can seem like the Ulysses of beauty products. Much like the book that only the most determined of intellects will ever finish, eyeliner is the product all true beauty enthusiasts must try, but only an intrepid few will become experts at using.  
As someone with a professional makeup artistry qualification under their belt, I can tell you first hand that consistently achieving the perfect eyeliner is indeed a skill. There are, however, a few basic things you can do to make this process a bit easier. Here are nine ways you might be using your eyeliner incorrectly and the super simple ways to fix them .