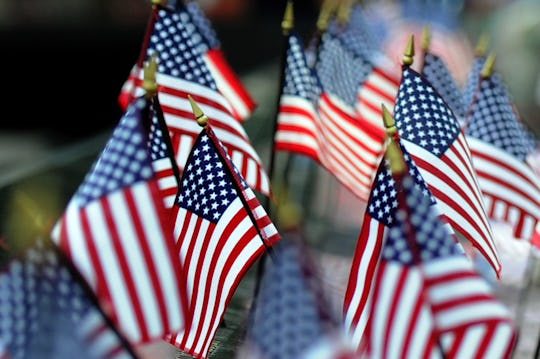 Kevin Mazur Photography/Getty Images News/Getty Images
9/11 Charities To Donate To If You're Looking To Help The Survivors
This Sunday marks the 15th anniversary of the 9/11 terrorist attacks and while it's been more than a decade since one of the most horrific days in American history, thousands of people are still deeply affected. Since then, hundreds of organizations have come forward to help the scores of people who were injured and severely impacted by the attacks, but many of them have closed in recent years. Even though time has passed, the anniversary of this tragedy is a reminder that many of the survivors still need support — and donating to these 9/11 charities is a great way to make difference by spreading love and compassion, rather than hatred and fear.
On the morning of Tuesday, Sept. 11, 2001, the tragic attacks on the World Trade Center, the Pentagon, and the plane crash of Flight 93 claimed the lives of 2,996 people, including the 19 hijackers, and injured more than 6,000 others. In the aftermath, the attacks cost the United States nearly $3 trillion. The impacts were grave and the grief many still feel to this day is raw, but remembering the thousands of lost lives by supporting the survivors, financially or emotionally, is just one meaningful way to help spread peace and comfort in the world and continue to help the country heal.
Here are five charities that continue to provide much-needed and significant support to 9/11 survivors:
Tuesday's Children
The organization was originally founded to provide support to more than 3,000 children who were affected by the terrorism and traumatic loss from Sept. 11. Since then, Tuesday's Children has grown substantially and now steps in to help support others around the world following a disaster, through counseling and community service.
You can support this charity through both financial and clothing donations, volunteering, as well as fundraising.
The FealGood Foundation
The FealGood Foundation was founded by John Feal, a U.S. Army vet and construction worker who lost part of his foot after an 8,000 pound steel beam fell and crushed it while he was helping with the the 9/11 recovery efforts. After he was injured, Feal was denied certain health care benefits and saw that his fellow responders experienced many of the same issues. This prompted him to advocate for rights and benefits for those who immediately jumped in to help following the 9/11 attacks.
So disgusted by the treatment Feal and other responders have faced, former host of The Daily Show John Stewart has actively fought to get better health care for 9/11 responders and has provided support and outreach for the organization.
You can support this charity through donations and virtual fundraising.
The Michael Lynch Memorial Foundation
Michael Lynch was an FDNY firefighter and was killed while responding to the 9/11 attacks in the World Trade Center after it collapsed. The Michael Lynch Memorial Foundation — founded by his family and friends — is a scholarship fund for educational grants, which are given to the children of firefighters, both fallen and active, as well as children of other victims of the 9/11 attacks.
According to the International Business Times, the foundation has granted 137 scholarships worth more than $3.5 million since 2013.
You can support this charity through financial donations.
HEART 9/11
HEART 9/11 has brought together a team of first responders and volunteers of New York City's firefighters and police officers in the aftermath of Sept. 11, 2001. The organization assists in rebuilding areas that have been severely impacted by tragedy, including recovery efforts following the 2010 earthquake in Haiti and Hurricane Sandy in 2012.
You can support this charity by volunteering and making a financial donation.
Families Of Freedom Scholarship Fund
The Families of Freedom Scholarship was developed as a program of Scholarship America just one week after the 9/11 attacks and works to provide educational assistance to children and dependents of the victims killed or severely injured in the attacks or during rescue missions. According to the organization, it has already provided millions of dollars in scholarship support and plans to continue doing so until 2030.
You can support this charity through financial donations.
These charities were established in response to a tragedy that was felt deeply around the nation, if not worldwide, and continue to make a difference for the many victims and survivors who were severely affected by the 9/11 attacks. On the 15th anniversary, these organizations can provide an outlet for fellow Americans to do the same.