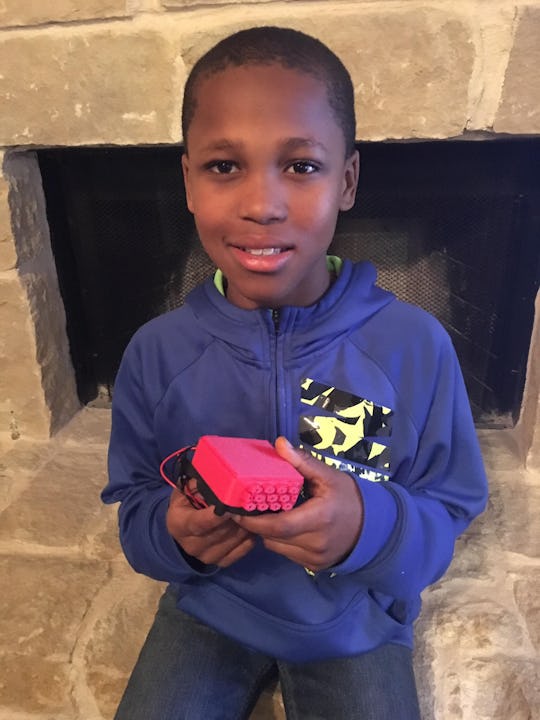 Courtesy of Bishop Curry, IV
10-Year-Old Boy's Invention Could Prevent Hot Car Deaths
Far too many children die each year after being left in hot cars — but now, one kid is using his creativity to do something about it. After hearing the devastating news that a baby from his hometown had died after being left in an overheated minivan last summer, a 10-year-old boy invented a way to prevent hot car deaths from occurring in the first place. The idea behind fifth-grader Bishop Curry V's invention — which he's named "Oasis" — is to stop a car from getting too hot, in cases when a child has accidentally been left inside, by blowing cold air inside the vehicle once it hits a certain temperature. The cold air then would keep the little ones from overheating until they could be rescued.
According to NBC News, the innovative device will attach to a carseat and will also come with technology that will be able to alert local authorities and the parents of the child who is left in the car.
Back in January, Bishop's father set up a GoFundMe page to raise money to pay for fees for an intellectual property attorney, patents, and production costs. Since then, Bishop's idea has raised more than $28,000 and he's already secured documentation with the United States Patent and Trademark Office, according to the fundraising site.
"I really hope it gets manufactured and it will save lots of lives," Bishop told WBAP back in February. "Because summer is coming up in a couple of months and that's when it will be most needed."
Looks like all of Bishop's hard work has paid off because his invention is expected to be in stores sometime in the next year or two now that he's in the process of finalizing his patent, according to CW33. His dad told Romper they hope to have a patent by next summer.
"This has definitely been an amazing journey for Bishop and he is anxiously awaiting to hear back from to USPTO and begin the manufacturing process so that parents can have access to this technology," his family wrote last week on the GoFundMe page.
On average, 37 children die each year from heat-related deaths after being left in hot cars. According to NoHeatStroke.org, 12 children have already died in 2017 — five of whom were from Texas, where Bishop lives, in the town of McKinney.
"It almost brought me to tears literally. You hear this happen all the time," Bishop's father told WBAP. "He was courageous enough to say you know what this has to stop. Enough of the news reports, enough of feeling bad. He actually did something about it."
With the progress they've made so far and a provisional patent on the way, hopefully Bishop's brilliant and lifesaving invention will be in every parent's car very soon.