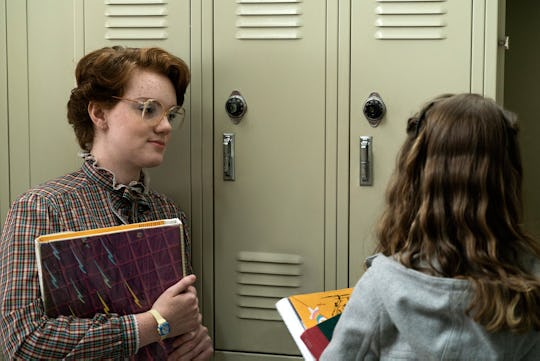 Curtis Baker/Netflix
A Barb From 'Stranger Things' Halloween Costume That Pays Homage To The Lost Character
It's officially fall, which means Halloween is right around the corner. If you haven't already picked out your costume for this year, it's time to start planning. With so many great films and TV shows released this year there's a lot of costumes to choose from. One of the hottest TV shows released this year was Stranger Things, and the breakout star of the show was Barb, Nancy's best friend who really just deserved better. So how can you dress up like Barb from Stranger Things? Thankfully her style is pretty simple.
Throwing it back to the '80s, your mom's closest may be the easiest place to get some of these items. However, if your mom doesn't have the Barb essentials, they're easy enough to gather online or make on your own. From the glasses to the shirt, to her puffy blue jacket you can have it all. Just be careful not to sit on the diving board by yourself if you cut your finger. You don't want the Demogorgon to take you to the The Upside Down, do you? Being Barb is all fun and games until you go missing and no one's concerned except for your friend Nancy who's caught in the middle of a love triangle. Are you still sure you want to Barb this Halloween? If none of that scares you and you still want to be Barb, here's how.
The Glasses
You can't be Barb without a pair of round eyeglasses. The best glasses for your buck to compliment your perfect Barb outfit are these orange glasses ($7.99). Be careful with prescriptions though — that could totally land you in the Upside Down.
The Ruffle Shirt
When it comes to old school fashion, Etsy is a number one source. Just search "'80s ruffled shirt" and you'll find tops that Barb would definitely have worn. For example, this vintage blouse ($13) screams Barb.
The Pants
Thankfully, fashion is cyclic and the mom jeans ($26) Barb wears are back in.
The Jacket
If you really want to go all out you can even get a blue jacket ($39.97) just like Barb. Definitely comes in handy if it is cold on Halloween.
The Hair
If you're not a natural red head like Barb, you can top off your look with a red wig ($12.72).
Depending on how far you want to go with your cosplay, you could even be so daring as to look like the mummified version of Barb after she — SPOILER — died at the hands of the Demogorgon-like monster. Then again, maybe that would be taking it a step too far. Either way, Barb is a great Halloween costume, and no matter how you assemble the perfect outfit, it'll definitely be a fan-favorite.