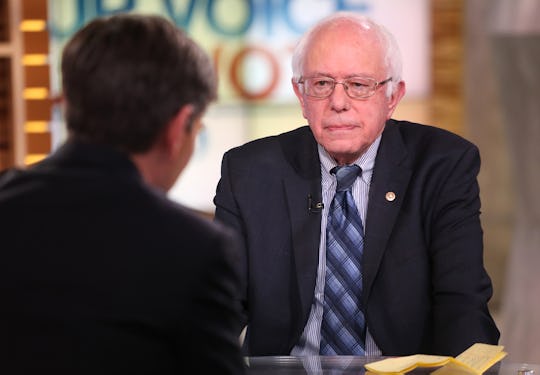 A Bernie Sanders-Elizabeth Warren Ticket Could Be Great For Women, But Probably Won't Happen
On Comedy Central's The Nightly Show with Larry Wilmore this week, Bernie Sanders hinted Elizabeth Warren could be on his presidential ticket as his vice president. It would be a partnership that many women out there would celebrate. Plenty of women have voiced their concerns and preferences when it comes to Bernie Sanders or Hillary Clinton, and a lot has been said about what a "feminist vote" means in this election. A Sanders-Warren ticket would be great for women, but it likely won't happen.
Sanders told The Nightly Show, "Elizabeth Warren is a very good friend of mine, I have known her for a long time, before she was in the Senate. She is a great US Senator. She has stood up to Wall Street. She has stood up to the Big Money interests. So, she and I will work together." And this is amazing, welcome news for women who don't support Clinton — or would prefer Sanders as a president.
A first female president would be amazing — that's inarguable — and many have taken that to mean that women should be voting for a woman. By that token, it almost seems that feminists who support Sanders have to defend their position — especially with headlines such as "Meet the Women Who Aren't Voting for Hillary Clinton," "Why Some 'Feminists' Won't Be Voting Hillary 2016," and "I'm Voting for Hillary Clinton Because She's a Woman" gracing front pages.
Sanders having a female vice president on his ticket — and not just any female, but badass, fights-for-abortion-rights, Massachusetts Sen. Elizabeth Warren — would be excellent. It would allow feminists who lean towards Sanders' views but still want to see women in top leadership positions to kill two birds with one stone. Unfortunately, it probably won't happen.
Clinton is still leading in polls, with a Huffington Post and Pollster poll putting her at 56.2 percent to Sanders' 32.7 percent. Warren has yet to endorse any of the candidates, but she did tell The Boston Herald that she liked what Sanders was talking about. "Bernie's out talking about the issues that the American people want to hear about," she said — and she didn't dismiss campaigning beside him.
The two would make an awesome duo: they both support the right to abortion and funding of Planned Parenthood; both want to see three months' paid family leave and increased childcare access; and they are a force to contend with when it comes to defending and growing the middle class. Both Sanders and Warren are the kind of leaders that unapologetically champion women's rights, middle class struggles, and the issues the average woman faces in the United States. A Sanders-Warren ticket could debatably be even more feminist than electing a female president.
However, Warren doesn't seem to be vying for national office. Many of her fans called for her to run as a Democratic presidential candidate — but Warren didn't want to. She's committed to growing the middle class and strictly regulating Wall Street; she basically created the Consumer Financial Protection Bureau; and she's adamant about protecting the middle class and consumers. But there is only so much a president or VP can do in his or her maximum of eight years. As a senator, a role which Warren has already scored and used to influence both the Democratic party and Congress, she can serve for as long as the people want her.
There's also the issue that a Sanders-Warren team might be too liberal-socialist. Still, the Huffington Post reported that Warren's views led investment banks to threaten withholding donations from Senate Democrats. As much as people may not like the "one percent," big money, or Wall Street, there's no arguing that they do hold a significant amount of power. A Sanders-Warren duo could also tip the scales: adding Warren as VP could make Sanders seem too socialist for some liberals, as well as for any Republicans who might lean away from whichever Republican candidate snags the party's endorsement.
Don't get me wrong: I think Warren is doing amazing things, and she seems like a fantastic leader. There's no arguing the fact that people would be more than on-board with this ticket. But Warren has called herself a "nerd" who loves her job in the Senate, according to CNN. It would be amazing if she joined the Bern — but if she doesn't, Democrats are still coming up on top by having her in the Senate, where she's able to make a significant impact.
Image: Fred Lee/Disney ABC Television Group/Getty Images