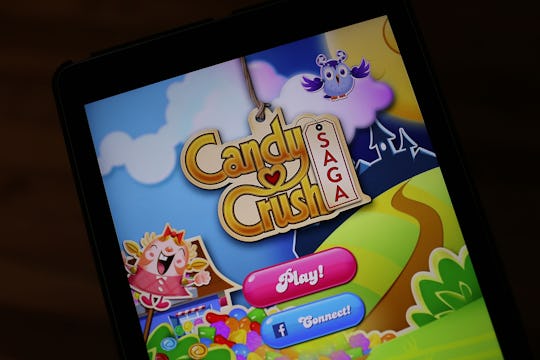 Joe Raedle/Getty Images News/Getty Images
A 'Candy Crush' Reality Show Is Coming To CBS & Um, What?
Live action game shows are known for being kind of ridiculous, but that's part of the fun; they're overly complicated and silly, pushing their competitors into some truly absurd challenges. But as far as random live action games shows go, CBS' newest offering takes the cake – almost literally. A Candy Crush reality show is coming and, um, what? It's hard to imagine how a Candy Crush show would even work, but CBS seems confident: they've already given it a straight to series order. A premiere date and host have yet to be announced.
The show comes from Matt Kunitz, who created Wipeout and was an executive producer on Fear Factor, which may provide some hints about what the show will be like. Wipeout was over the top, full of unexpected obstacles and larger than life sets. The Candy Crush series sounds like it's going to have a similar style; though the original game just involves matching candies to win points, the reality show will feature two-people teams traversing giant game boards as they try to win.
It's still not totally clear how that will work – early reports of the series cite the "next generation technology" at work on the boards without really explaining what that means – but it's sure to feature some of the crazy surprises Kunitz's shows are known for.
Statements from Kunitz seem to confirm that the Candy Crush show will have some serious similarities to Wipeout. "The Candy Crush franchise lends itself perfectly to the king of larger-than-life physical game shows that I love to produce and CBS is the perfect home for it," Kunitz said. "As a Candy Crush Saga player myself, I am excited to amp up the action and visuals in our huge Candy Crush Arena."
Taking all that into account, it sounds like players will be matching up candies on a grand scale that involves standing on a huge version of the board. Of course, there's sure to be more to it; Wipeout had sudden projectiles out of nowhere, giant trampoline-esque pillows, unstable platforms, and all sorts of surprise hits to throw competitors off their game. Candy Crush could certainly take advantage of some of those weird booby traps to make the end goal even more complicated to reach.
Lionsgate TV Group chairman Kevin Beggs promises that it will be an "incredibly visual, physical, and fun TV program." It may be all those things, but the more complex it gets the less it sounds anything like the original Candy Crush game. The entire idea might fans with just one question about the reality TV version: why?