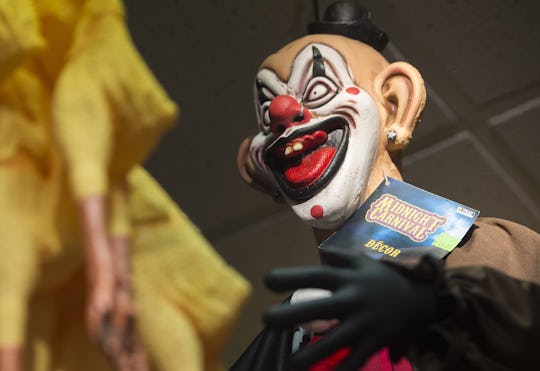 SAUL LOEB/AFP/Getty Images
A Clown In England Actually Attacked Someone, & The Clown Scares Are No Longer Funny
This clown stuff has officially gone way too far. Creepy clowns have been sighted across the United States for months, and until now, nothing too scary had come of it. But it was recently reported the the "clown hysteria" had spread to the United Kingdom, and there's probably good reason. A man was attacked by a knife-wielding clown this week in Blackburn, England, according to The Sun.
The clown did not have a mask on, but did have sinister-looking makeup and a green wig, according to Simon Chinery, the 28-year-old man who was attacked. Chinery told The Sun he was at an ATM machine when the clown approached and held the knife against him, at which point Chinery instinctively tried to push it away.
There was blood everywhere. It happened so quickly. I was in shock and ran home. My mum phoned an ambulance and I was taken to hospital straight away.
Chinery, who is a woodworker by trade, said the attack is stopping him from working. Three of his fingers were badly injured in the incident. A specialist at the hospital in which he was treated told him his hand would be damaged for life and that he would likely need reconstructive surgery.
Chinery added that he was glad he wasn't with his son when the attack happened, and he hopes the incident acts as a wake-up call to those who think clown sightings are a big joke:
This attack has ruined my life. I am disabled from this and can't return to my trade... I have been having nightmares and the pain is unreal... Parents and kids need to know what's happening because it's getting out of control. The police need to do something, it's a joke too far.
The clown hysteria started during the late months of summer after unsubstantiated reports of clowns luring children into the woods in South Carolina. According to TIME, clown sightings have been reported in more than 24 states since then. A Connecticut school district has banned clown costumes and suggested they were "symbols of terror." And a group of at least 500 students at Pennsylvania State University went on a "clown hunt" after a sighting was reported on campus, according to USA Today. Nine people dressed as clowns were arrested in Alabama, but no injuries or violent activities had been reported. The police chief said the department wanted to "make an example and crack down on clown-related activity in our city," according to AL.com. Along with an increase in pranks and hoaxes, there was an increase in people being absolutely horrified by clowns.
The frenzy was spiraling out of control. Ronald McDonald had to start laying low. Even Stephen King said the clown craze would have to stop.
But after the England attack, there might be good reason for people to be wary of clown sightings. It might be difficult with Halloween coming up, but it's a good idea to be careful around anyone dressed in a creepy costume.