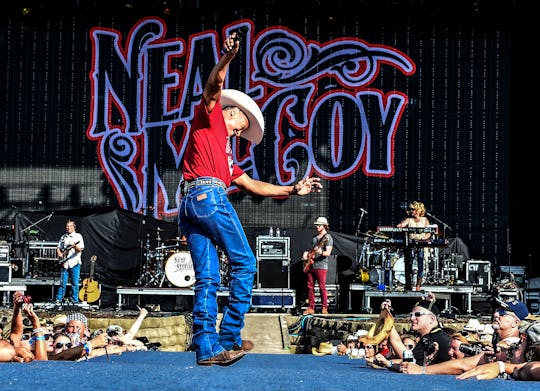 Rick Diamond/Getty Images Entertainment/Getty Images
A Country Artist Wrote A "Take A Knee" Song, & People Are Having The Best Reactions
All country music tells a story. To some, it is what makes the genre so powerful and popular. From embracing the good life and drinking beer with your buddies to singing about heartbreak to singing songs about how much pride they have for the United States of America, country music lyrics resonate with a lot of people. So it shouldn't surprise anyone that a country artist wrote a "Take A Knee" song and people are having the best reactions to it — mainly making fun of it, but, you get the idea.
Throughout this season of the NFL, football players have joined in solidarity to protest against police brutality and injustices by kneeling during the national anthem. Their protests are symbolic, they're peaceful, and a great example of how people can use their platform for good in the nation. But some people aren't too pleased about the protests — including country musician Neal McCoy.
In the beginning of November, McCoy released a song inspired by his hatred for these protests titled "Take A Knee My Ass," which can be purchased on iTunes or streamed on Spotify. The song is worth listening to, if only for how ridiculous the lyrics are and to understand why everyone is reacting the way they are.
"When I see someone on TV, take a stand on bended knee, whether its on astroturf or grass, I think of those whose freedom was not free and I say 'Take a knee, my ass'," McCoy sings.
The song's lyrics are incredibly patriotic, with McCoy singing about how soldiers fought for the freedom for people in the United States to live, therefore they should respect that and stand for the National Anthem. You don't need to listen to the song all the way through to know what it's about. But is McCoy telling people that he is taking a knee, in his ass? This is a moment where punctuation could really help McCoy out.
Although the song debuted a week ago, Twitter finally caught on to just how great and how awful the song is. Their reactions to the song and the song's title are quite possibly the funniest thing you will read all week.
McCoy's friend wrote the song, according to Buzzfeed, and country music fans have been loving the tune. The video where McCoy debuted the song has racked up over 3 million views. Despite everyone poking fun at his song's title, McCoy himself is, of course, incredibly happy with the song and has urged his fans to help the song get to the top of the charts on Twitter.
McCoy explained his reasoning for performing and recording the song on Facebook Live, according to NBC 4:
I've been on 15 USO tours. I've entertained our troops in Pakistan, Afghanistan, Iraq, and all over the world. So no, this is not a money grab. This is a guy that believes in our country, that does not like people kneeling, not standing with their hands over their hearts, for the pledge of allegiance or national anthem. That's what I'm about.
As seen with songs like "God Bless The USA," people love songs about the nation, especially when they feel as if things are in disarray. There is nothing that unites people more than the power of music, especially country music, according to the Christian Science Monitor — therefore this song probably speaks to a very specific group of people.
If you think that this song's lyrics is offensive to those who are standing up for what they believe in, statistics show that country music is a little more conservative leaning. A 2004 Gallup survey found that 60 percent of country music fans identified strongly with Republicans, according to US News & World Report.
McCoy's song certainly appeals to two groups of people — people who agree with the song's ridiculous message and the people who will have so much fun making fun of it.