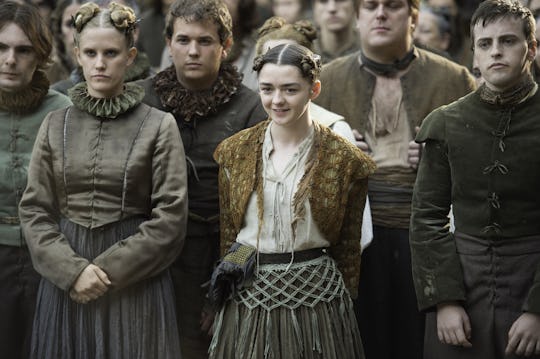 Macall B. Polay
A DIY Arya Stark 'Game Of Thrones' Halloween Costume That Is Easier Than Fighting The Waif
I am sure that somewhere on the internet you can find a thin polyester "Arya Stark" Halloween costume that will run you somewhere in the neighborhood of $79.99 and a million dollars. But, if you're looking to have a more hands-on approach with your Halloween costume, I am about to show you how you can DIY an Arya Stark Halloween costume that will make you the absolute belle of the ball. Or at least, the most unsettling and at the same time endearing belle at the ball.
The first question we must ask ourselves is what era of Arya are we going for here? Are we going for a young Arya, with that crazy complicated up-do? Homeless, murderous, vagabond Arya? My personal favorite Arya look is her late Season 6 ensemble, in which she was researching how to kill the actress. This outfit, with the full skirt, practical fanny pack, fingerless gloves and very on-trend braid crown is everything. Also it is way more recognizable (especially with the hair) than the boring smock dress she wore while training with The Waif. This look is also pretty easily achievable at home. Quite honestly, I think I saw someone wearing something similar to this just the other day in Brooklyn.
The Top
Luckily, lace-up tops and peasant blouses ($14.90) are another popular trend these days.
The Sweater
This bolero crochet cardigan ($29.99) is necessary to complete the look.
The Skirt
You'll need some sort of long, flowy, peasant-like skirt ($19.90) first of all.
The Accessories
This "waist pack" ($12.30) is actually very helpful for keeping a hands-free look over the Halloween night.
The Hair
I mean, it really makes the whole look. Watch this tutorial to do it yourself.