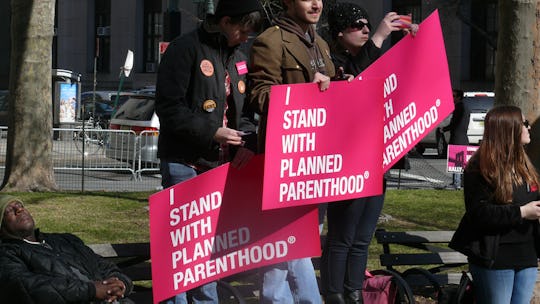 Charlotte Cooper/Flickr
A Former Planned Parenthood Employee Lists Acts Of Violence At Her Clinic, & It's Even Worse Than You Might Think
In the wake of Friday's deadly attack on a Planned Parenthood clinic in Colorado Springs, Co., national debate around Planned Parenthood has been front and center. Police have not yet commented on the motives behind the attack, which killed three and injured nine, but the Colorado shooting is already a big part of the political conversation surrounding federal funding for Planned Parenthood. Amid this debate, one former Planned Parenthood employee, Bryn Greenwood, tweeted a list of appalling incidents that she claims she personally witnessed while working for three years at an unnamed Planned Parenthood clinic in Kansas — the details of which will leave you horrified.
Greenwood's list includes a few obvious sources of intimidation, such as street harassment and threatening phone calls. But she also lists surprising and disturbing incidents with cherry bombs, butyric acid, gasoline fires, and drive-by shootings:
Greenwood worked at the clinic between 1996 and 1999, according to Mic, and she says that her clinic didn't even provide abortions. In this short time, she "lost count" of how many times stinks bombs were released into the ventilation systems.
Greenwood also tweeted about being called a "murdering whore" for working at the clinic:
While Greenwood's tweets are just now trending, they're actually part of a larger online effort to show the public that if indeed the motive behind the shooting proves to be anti-choice ideology, it won't be an isolated incident. Feminist activist Michelle Kinsey Bruns popularized the #is100enough hashtag, which started with her list of 100 examples of terrorism and intimidation against Planned Parenthood clinics dating back to 1976:
According to a comprehensive Mother Jones article about past incidents at Planned Parenthood locations, attacks against abortion clinics abated somewhat after congress passed a law in 1994 making it a federal crime to "injure, intimidate, or interfere with abortion providers or those seeking their care." Sadly, anti-provider violence is on the rise again this year, ever since the so-called Center For Medical Progress released controversial undercover videos allegedly showing Planned Parenthood employees discussing the selling of fetal tissue. New data from the National Abortion Federation, the professional association for abortion providers in the U.S., show that there has been an "unprecedented surge" in threats and harassment, according to Vicki Saporta, president and CEO of the Federation.
But to anyone who thinks abortion providers will be intimidated by these actions, Bryn Greenwood tweeted her answer:
Image: Charlotte Cooper/Flickr