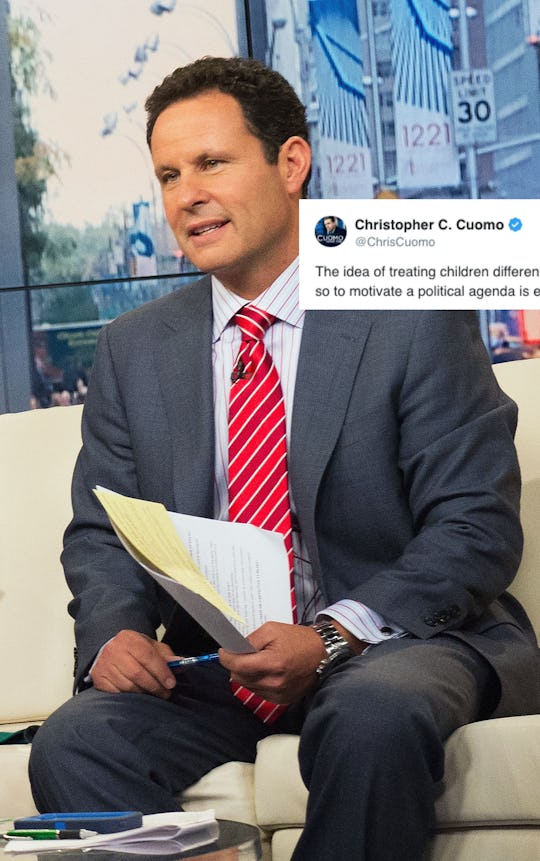 Slaven Vlasic/Getty Images Entertainment/Getty Images
People Are Pissed At This "Fox & Friends" Host For His Comment About Immigrant Kids
The debate over President Donald Trump's immigration policy rages on, and TV talk show hosts all over the country and on every news channel have something to say about it. However, what one host over on Fox News said was maybe not the best comment to make on the situation. A Fox & Friends host said immigrant children are not like people in "Idaho or Texas," and people are pretty pissed about it.
On Friday, Fox & Friends co-host Brian Kilmeade and his fellow co-hosts Steve Doocy and Ainsley Earhardt discussed the Trump administration's new "zero-tolerance" policy of referring border crossings for federal criminal prosecution, resulting in kids being separated from their parents as families are divided and sent to different facilities, according to the video below. While discussing the children who are affected by the policy, Kilmeade said we should show the kids "compassion," but that ultimately, this is happening to kids from another country, not American kids, according to Media Matters for America.
It shouldn't be a surprise that people were not exactly pleased with that sentiment. People from both ends of the political spectrum and everywhere in between were pretty horrified by images and stories about family separations, and for Kilmeade to imply that we shouldn't treat kids who are affected by these separations the same as we would American children — well, it didn't go over well.
Kilmeade went on for a little while about immigration policy and strengthening immigration law, but it was his remarks about immigrant children that set people off. He said, according to Media Matters for America:
And these are not — like it or not, these aren't our kids. Show them compassion, but it's not like he is doing this to the people of Idaho or Texas. These are people from another country and now people are saying that they're more important than people in our country who are paying taxes and who have needs as well.
But honestly, I don't think I've personally heard anyone say immigrant children are more important than citizens of the U.S., just that we should be treating all children with compassion and care, no matter where they come from.
Later on Friday, on his radio program, FOX News Radio's The Brian Kilmeade Show, Kilmeade reportedly addressed the remarks and said, according to Fox News Radio:
Meanwhile, I'm just realizing doing the show there's some things getting some traction out there about something I said this morning about kids not being important, or unimportant.
All kids are important, all kids are special. What I'm just trying to say in this country when they come in, that as the President of the United States, you can only do so much for so many and that's why we give so many aids to other countries. So everybody is important but for the President of the United States, his point seems to be is that the kids in this country are his priority but straightening out the immigration laws at the border are key.
That's why I hope something gets done – that's the bigger point on all of this. But about kids and compassion of course, that's why people especially, people I know – you give money to people outside our borders but when it comes to our country, I think that you have to have a priority because you can't pay for everybody, everybody for everything that you want especially when you are a country that's $20 trillion in debt and overall, get it fixed.
Kilmeade also tweeted about the controversy.
In two consecutive tweets, Kilmeade said:
On FOX & Friends earlier, Of course-I didn't mean to make it seem like children coming into the U.S. illegally are less important because they live in another country. I have compassion for all children, especially for all the kids separated from their parents right now.
Then added:
Nobody wants to see children in these circumstances and glad they are on their way to being reunited with their parents.
Kilmeade's earlier remark that immigrant kids aren't like the people of Idaho, or Texas, or any state really, was something that a lot of people — particularly people on social media — definitely didn't like.
Twitter user @MarlowesLeftEye pointed out that even children in the U.S. aren't always treated with adequate care and compassion when they tweeted, "@foxandfriends Ok. You have zero compassion and are generally just smiley sycophants and propagandists. We all get that. So, let's then talk about the children in Flint, and those in Puerto Rico. By your own definitions, they are 'ours'. Spin that."
And Ed Krassenstein, a journalist with Hill Reporter, tweeted, "FoxNews' Brian Kilmeade, speaking about the kids who were separated from their parents said: 'Like it or not, these are not our kids.. It's not like [Trump] is doing this to the people of Idaho or Texas' Like it or not, these kids are JUST AS HUMAN as your 3 kids, @kilmeade!"
In fact, most of the criticism focused on how dehumanizing Kilmeade's comments were, and how kids are kids and they shouldn't be treated differently because of where they came from.
Chris Cuomo of CNN, for example, tweeted, "The idea of treating children differently is appalling. And to do so so to motivate a political agenda is even more so. Shameful."
Tommy Vietor, the co-host of Pod Save America, tweeted, "For a long time I thought @foxandfriends was stupid but not malicious. Boy have they proven me wrong!"
Actor George Takei linked to a story about the remarks and simply said, "History will not be kind."
Twitter user Jocelyn Beard tweeted, "Ummm...@kilmeade: children are children, and regardless of their place of origin, no adult gets a free pass when it comes to abuse. Have a great weekend. Maybe take some time to consider whether or not you have a soul."
And Twitter user Victoria Brownworth said, "'Like it or not, these aren't our kids,' asserts @foxandfriends host. 'It's not like they're from Idaho or Tennessee.' If you can't see all suffering children as your children and thus your responsibility, please don't have children. #ZeroTolerance"
Finally, @NickMadincea tweeted, "Listen Fox and Friends, I was a kid from "Idaho or Texas" and there is nothing special about us. We should be treated the same way as those kids crossing the border. Stop fanning the flames of hatred you imbeciles. #FridayFeeling"
Whatever Kilmeade actually meant by his first statement — he definitely feels it was misconstrued — a lot of people were pretty upset by what he said, and with good reason. No one likes it when someone even seems to act like some kids are less worthy of our compassion than others.
And a lot of people feel strongly about the way kids at the border are being treated. If you're one of them, there are many organizations that need your assistance to help immigrant kids and families affected by the zero tolerance policy and related family separations.