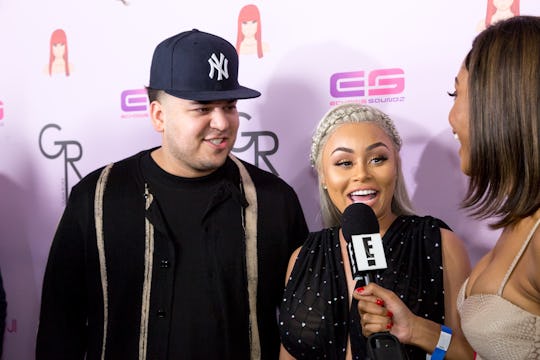 Greg Doherty/Getty Images Entertainment/Getty Images
A Full Blac Chyna-Rob Kardashian Timeline
At the intersection of feminism and celebrity gossip, all eyes are on a pair of reality stars whose messy breakup has been playing out live on social media for months, culminating in accusations of domestic violence, substance abuse, and revenge porn. If you're not a regular tabloid reader, you might have a few questions, so here's a full timeline of Blac Chyna and Rob Kardashian's breakup and Instagram controversy, so you know what the heck happened.
A little back story to their relationship: Chyna fell in with the Kardashians by way of her now-ex, rapper Tyga, who was friends with Kanye West. Chyna and Kim Kardashian became close in June 2014, according to Us Weekly. A few months later, Tyga left Chyna for Kylie Jenner, the youngest of the Kardashian-Jenner siblings. This, understandably, created a rift between Chyna and the sisters, and the feud carried on throughout 2015. Rob, ever the black sheep of the family, began dating Chyna in January 2016, much to the chagrin of his mother and sisters, according to People. Chyna eventually won the family over (at least as far as the TV cameras are concerned), and the next 10 months were a whirlwind of breakups and makeups, during which the couple got engaged, filmed a seven-episode reality series, and had a baby girl, Dream. And that brings us to...
December 2016
One of most bizarre public breakups of all time began with Chyna's Instagram being hacked. After posting screenshots of private text messages, the hacker directed viewers to Kardashian's Snapchat, according to People, where he shared videos of himself strolling around the house, claiming that Chyna had left him and taken Dream with her. He also accused her of cheating. Chyna responded with a lengthy Instagram post that began with "I'M DONE," and alleged that Kardashian had verbally abused her. But that was just the beginning.
January 2017
The couple appeared to reconcile for their first anniversary, according to Us Weekly, but it was short-lived.
February 2017
E! Online reported that the couple was definitely not together after all, and were still living separately.
March 2017
Editor's Note: The Instagram post has since been deleted.
Chyna attended Rob's birthday screening of Beauty and the Beast, but was later spotted out with friends, according to E! Online. It appeared as though the pair were staying cordial for the sake of their daughter, but were not romantically involved.
April 2017
Chyna and Rob were spotted dining at TAO, according to Us Weekly, and Chyna later Snapchatted a quick video of her hand on top of his (sans engagement ring). Although some speculated that it was an official date, there's no evidence to suggest that.
May 2017
On Mother's Day, Rob posted a tribute to Chyna on Instagram, according to ET Online, writing, "I am so Thankful for our beautiful baby girl and so Thankful for YOU." They spent the day apart. Two weeks later, he posted another tribute in honor of her birthday, referring to her as "the woman I love," People reported. Once again, he was not invited to celebrate with her.
June 2017
On June 1, Us Weekly reported that Rob had moved on, and was dating former Basketball Wives L.A. star Mehgan James. TMZ spotted Rob, Chyna, and Dream spending Father's Day together at Disney Land two weeks later, but according to Life & Style, sources said that the pair bickered the whole time. Rob later claimed that the trip was staged for the paparazzi.
July 2017
Chyna, reportedly frustrated by Rob's overtures, sent him a video of herself kissing another man on July 5. She explained to Good Morning America's Linsey Davis, "I've been broken up with Rob since December. It's like, if somebody keeps poking at you and poking at you and poking at you, and keep poking at you, eventually you're going to pop. I was just like, 'Maybe if I send this video to him, then he'll just leave me alone,'" according to E! Online.
In response, Rob posted the video to Instagram, along with several explicit photos of Chyna. The three-hour social media tirade also included a fair amount of slut-shaming and body-shaming, as well as accusations of gold-digging, infidelity, and substance abuse before his account was finally shut down, according to People.
Two days later, Chyna's attorney, Lisa Bloom, announced that she would seek a restraining order against Rob, and graced the world (and Romper) with this beautifully-crafted statement:
I am very proud to represent Blac Chyna as she stands up for her rights as a woman and as a mother against her ex, Rob Kardashian.
Yesterday Chyna retained me, and today we filed for temporary restraining orders to protect her rights.
Mr. Kardashian, you are now on notice: revenge porn is illegal. Cyberbullying your ex is harassment. Chyna ended your relationship months ago and she has the right to live as she chooses, work as she chooses, dress as she chooses, date who she chooses, and be intimate with who she chooses. Chyna and I both believe that this is an important women's rights issue, as too many women and girls have been slut-shamed by exes.
It stops now. Your attempts to shame and control her are hereby rejected.
Her body, her choice. Her life, her choice. Back off.
CNN reported on Monday that the restraining order was granted. Rob agreed to the stipulations, but did not appear in court. Instead, he sent attorney Robert Shapiro. Yes, that Robert Shapiro; the one who worked with Rob's late father on the "Dream Team" that got O.J. Simpson acquitted of a double murder. According to court documents obtained by People and the New York Daily News, Chyna alleged in her petition that Rob threatened suicide multiple times in an attempt to manipulate her, and alleged that he once punched her and "tore the hinges off" her bedroom door. She also added, "I take his threats seriously because he showed me a gun at his house." Rob has not been charged with any crimes at this time, and there is no proof that he physically threatened or abused Chyna outside of her claims. Shapiro, his lawyer, made the following statement, according to CNN:
I, personally, on Mr. Kardashian's behalf, apologized and offered our regrets as to what happened in the past couple of days. Now we move forward to do one thing and one thing only, what ever is in the best interest of the child.
On Thursday, TMZ reported that "sources" were claiming Chyna was keeping $125,000 worth of jewelry "hostage" for "revenge," but Bloom dismissed the accusation, telling the website that Rob gave Chyna seven pieces of jewelry as a gift, and she generously chose to return four. Rob is no longer allowed to contact Chyna or post about her online, so anonymous sources will presumably be her sole attackers for the time being.