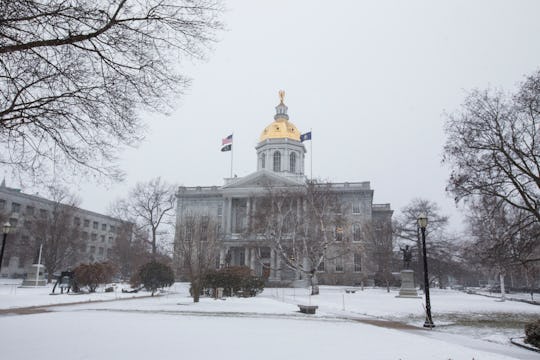 Scott Eisen/Getty Images News/Getty Images
Girl Scout Fights To Stop Child Marriage In The US
Apparently, the motto "Live free or die" doesn't apply to child brides. When Cassandra Levesque, a New Hampshire Girl Scout, learned that child marriage is perfectly legal in her state, she worked to create legislation to change the legal age for marriage to 18. The current law allows for boys to marry at age 14, and girls at 13, provided they have permission from their parents and a judge. Last week, Levesque and her parents watched as state legislators debated, and ultimately rejected her bill. The representatives voted 179 to 168 to indefinitely postpone an actual vote on the bill, meaning it's now "effectively killed for two years," as Democratic Rep. Jackie Cilley, the bill's sponsor, told the Concord Monitor.
The vote fell largely on party lines, and Republican Rep. David Bates argued that the measure would lead to more children born out of wedlock, according to the Union Leader. One might argue that such an issue would be better addressed by providing comprehensive sexual education and access to contraception, rather than forcing pregnant teens to be legally tied to two people for the rest of their lives in order to punish them for an accident that likely resulted from misinformation. Bates also mocked Levesque, telling CBS Boston, "We're asking the legislature to repeal a law ... on the basis of a request from a minor doing a Girl Scout project." However, Bates thinks that marrying a child her age is "perfectly reasonable," according to CBS. Bates' office did not immediately respond to Romper's request for comment.
But before you dismiss New Hampshire as some weird backwards state, you might want to take a look at your own state's laws, because every single U.S. state allows minors to marry. Most allow 16- or 17-year-olds to marry, and incredibly, Massachusetts allows boys as young as 14 and girls as young as 12 to marry with parental consent. According to the Independent, U.S. marriageable age laws are matched only by Saudi Arabia and Yemen. Four additional states, as well as Puerto Rico, have a lower minimum age for girls than boys. The United Nations notes that child marriage "affects girls in greater numbers and with graver consequences" than boys. It can lead to social isolation, decreased access to education, and increased risks of unwanted pregnancies, HIV and other sexually transmitted infections.
The human brain isn't even fully developed until age 25; someone half that age has no capacity to consent to a life-changing decision. And that's just addressing the children who want to marry; in many cases, they're forced by their parents. According to the Pew Research Center, 57,800 U.S. children between ages 15 and 17 were married as of 2014, representing about 0.5 percent of all children in that age group. There's no polling data for kids between 12 and 14, because apparently the Census Bureau didn't realize how depraved some states' laws are. Levesque has vowed to continue to fight for New Hampshire kids, but every state needs to do better.