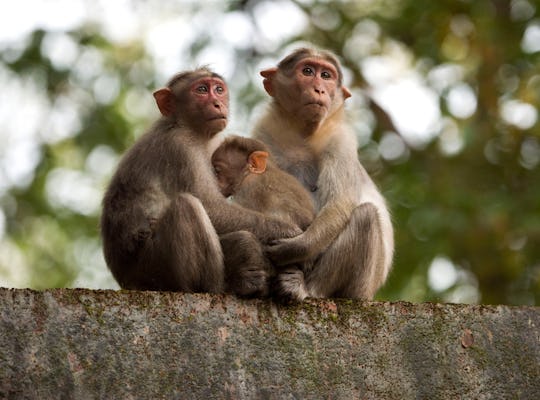 WPA Pool/Getty Images Entertainment/Getty Images
A Young Girl Was Found Living With Monkeys
Police in the northern Indian state of Uttar Pradesh have rescued what many have called a real-life Mowgli. The girl was found living with monkeys, according to The Times of India. She's believed to be about 8 years old, and was discovered during a routine patrol of the Katarniaghat Wildlife Sanctuary, which is also home to tigers, jackals, and crocodiles. Doctors told One India that they believe she was living with the monkeys for about two months. She doesn't speak, instead communicating with shrieks, and she walks on all fours and eats like an animal, as well. Doctors say her condition is improving, but she's still unidentified.
Although the idea of a little girl swinging from tree to tree might seem charming at first, it's actually tragic. There have been many documented cases of children being raised by animals, and by and large, the circumstances that led to them living in the wild are horrendous. And it's not so simple to rehabilitate them, either. In addition to physical impairments and psychological scars, some feral children have mental impairments stemming from their upbringing that they can never overcome. Fortunately, it looks like the girl in India is on the right track for recovery, but let's look at a few facts.
There are plenty of examples of feral kids in the news, and their back stories, as one might guess, are heartbreaking. British woman Marina Chapman claims that she was raised by monkeys in the Colombian jungle from the ages of 4 to 9. She can't quite recall exactly how she ended up there, but she told Radio Times, "I assume my parents must have given me away ... There were a lot of families giving children away because they were so poor."
In 2009, Russian police rescued a toddler who was being treated as an animal, eating from a bowl on the floor alongside the family's cats and dogs. The girl reportedly barked and hissed. Just a year prior, a 7-year-old Russian boy was rescued after being raised as a bird. He communicated by chirping and flapping his arms. India's Ng Chhaidy got lost in the woods when she was 4, and resurfaced decades later in Myanmar, recalling very little language.
No matter how they ended up living in nature, the kids all needed to assimilate with the animals to survive. Author Michael Newton mused in an NPR interview that these cases show that "nature, which is often thought of as hostile to man or human beings, is suddenly revealed to be more kindly than human beings are themselves." Some feral children are easily able to assimilate back to human culture upon rescue, but others have a tougher time. The most important factor appears to be how much they knew before living with animals.
The prognosis for a child who was never taught to walk or talk is grim, but those who simply need to regain those skills after a period of time in the wild often do, and are able to integrate back into society, which is great news for the girl in this latest case.
Still, our collective reaction to a story such as this girl's shouldn't be to romanticize it and compare it to a fictional movie. Yes, she shouldn't be stigmatized, but her struggle and the struggle of other children like her also shouldn't be undermined with jokes. These children's stories are lucky because they found a way to survive, but they aren't fairytales.