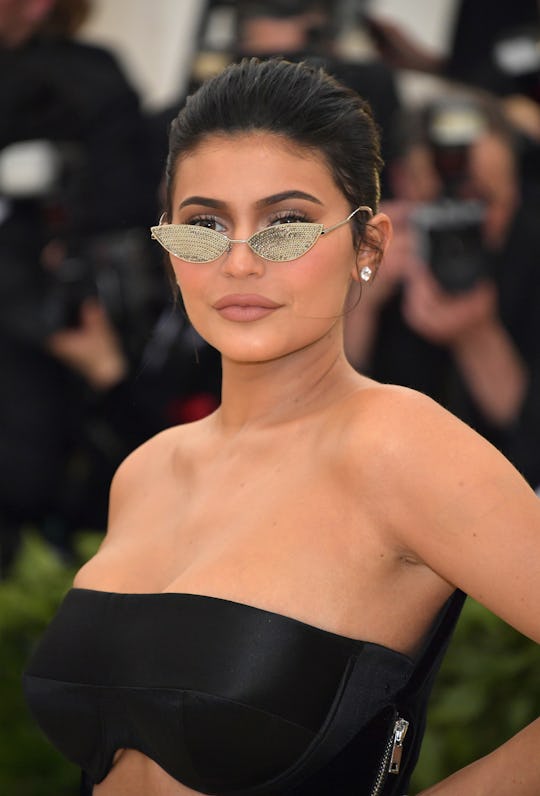 Neilson Barnard/Getty Images Entertainment/Getty Images
Someone Actually Started A GoFundMe To Make Kylie Jenner A Billionaire
It's no secret that Kylie Jenner has leveraged her family's fame to create a makeup empire. Over the past three years — and with the help of Jenner's massive social media following — Kylie Cosmetics alone has amassed an estimated net worth of $800,000. Add to that Jenner's earnings from reality TV shows and brand endorsements, and the 20-year-old mom is on the cusp of becoming a billionaire. So you can probably imagine the collective outrage when reports started circulating that an online fundraiser was created for the youngest Kar-Jenner sibling. (I know I was.) Because apparently, a GoFundMe page was started to help make Kylie Jenner a billionaire — but there's a major catch.
On July 11, Jenner's rise to fortune was highlighted in Forbes magazine's cover story. With a current net worth of $900,000,000, the Lip Kit mogul is the youngest person on the magazine's fourth annual ranking of America's Richest Self-Made Women. And with another year of growth, Forbes predicts she will become the world's youngest self-made billionaire — dethroning Facebook founder Mark Zuckerberg from that title. Pretty cool, huh? Except, plenty of people seemed to take issue with the magazine's classification of Jenner being "self-made."
One Twitter user wrote, "Calling Kylie Jenner self-made without acknowledging anywhere the incredible headstart she had is what allows people to turn around and look at poor people and ask them why they haven't become billionaires yet. Her story is not inspiring or motivating for anyone."
Another person tweeted, "Calling kylie jenner a 'self-made billionaire' is like claiming you made soup from scratch because you opened a can and reheated it." Ouch.
Others honed in on the fact that Jenner has still not yet achieved the status of billionaire — like the person who created a GoFundMe campaign to help her get there. "Kylie Jenner was on the cover of Forbes Magazine today for having a net worth of 900 million dollars, which is heartbreaking," the campaign's description reads. "I don't want to live in a world where Kylie Jenner doesn't have a billion dollars. WE MUST RAISE 100 MILLION DOLLARS TO HELP HER GET TO A BILLION, PLEASE SPREAD THE WORD, THIS IS EXTREMELY IMPORTANT."
If your initial reaction was anything like mine was, then you probably literally can't even right now. Look, I get that fans want Kylie Jenner to be the youngest "self-made" billionaire. Her fans want to see her make her mark in history. It's understandable. But let's get real — raising money for a millionaire is asinine. Kylie Jenner is fully capable of buying anything her heart desires, unlike, you know, real people in need.
I do have a bit of good news, though: Upon further inspection, it turns out the GoFundMe campaign was created by comedian Josh Ostrovsky, otherwise known as "The Fat Jewish" on Instagram, Us Weekly reported. Whew! My faith in humanity has momentarily been restored. And yet, it appears there are individuals who have already given to the cause. No less than 38 people have raised nearly $500 in one day. Just no. As Business Insider pointed out, none of these donors will actually pay anything unless the campaign reaches its goal. And I think I have enough faith in humanity to say that $100 million pretty far-fetched — even for Kylie Jenner fans.
For those select individuals who have already given to this satirical fund, I'm not sure what to say, except, "Are you freaking serious?" Instead, I'd love to point you in the direction of a multitude of ways your money could be better-spent. Like Planned Parenthood, for example. It's imperative that women continue to have access to safe abortions, and the current administration has done nothing to help the cause. With the impending retirement of Justice Anthony Kennedy and Trump's subsequent nomination of Brett Kavanaugh as his replacement, the future of Roe v. Wade seems uncertain.
Or maybe consider donating to organizations working to help reunite immigrant families — like the Refugee and Immigrant Center for Education and Legal Services (RAICES), for example. This Texas-based organization provides legal support to immigrants and unaccompanied immigrant children. On a much smaller scale, you could also donate to your local library, Or a food bank. Or your neighbor's Girl Scouts troop. For the love of god, pick almost anything but making rich people more rich. Because Kylie Jenner is doing just fine on her own.