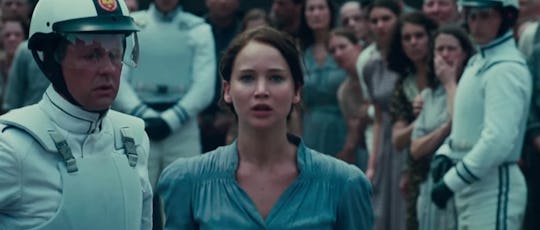 Lionsgate Movies/YouTube
A 'Hunger Games' Theme Park Is Happening, But Not Everyone's Psyched About It
It's a safe bet that no Hunger Games fan would actually want to live in Panem, but Lionsgate sure thinks it would make a great destination vacation. The studio is collaborating with Avatron Smart Park to create an Atlanta, Georgia theme park based on The Hunger Games and popular blockbusters. In fact, The New York Times' Brooks Barnes reports that it's just one prong of Lionsgate's strategy to invest in "location-based entertainment," in the near-future. But considering the subject matter of the films, as well as the books they were based on, it may be the most controversial of them all.
Barnes describes a similar project in development in the Middle East, providing a glimpse into what might be planned for the U.S.:
That park, built by Dubai Parks and Resorts, is scheduled to open next year. It will include areas dedicated to movies from Lionsgate, DreamWorks Animation and Sony Pictures. Most of the Lionsgate zone, at least initially, will be devoted to The Hunger Games. After passing through the gates, visitors will arrive in a re-creation of the fictional District 12, a mining region where Katniss grew up. There will be costumed characters and real-life versions of Peeta Mellark's bakery and the Hob black market.
That's on top of a Capitol train-style roller coaster and a hovercraft simulator. The idea of immersion in a YA novel may be thrilling, but the implications for a Hunger Games adaptation make it easy to question the model. As Jamieson Cox wrote in The Verge, "If you're struggling to understand the appeal of a theme park angled around 1) a yearly competition in which children fight and kill each other until only one's left standing and 2) the subsequent violent, confusing revolution, you're not alone." 
Though the developers counter speculation that the theme park will embrace the gruesome themes of the series, it seems difficult to stay true to the messages of the books without acknowledging the darkness inherent to the storylines. On Twitter, plenty of people have been pretty vocal that they don't think it's a good idea:
Others think the entire concept is flawed:
But there are still loyal fans who can't wait:
Others, meanwhile, are taking it lightly:
So will the Hunger Games trilogy be adapted into a thrilling theme park experience, or will the expensive investment be yet another way to glorify violence? Maybe someone should ask Katniss Everdeen. 
Images: Lionsgate Movies/YouTube; Giphy