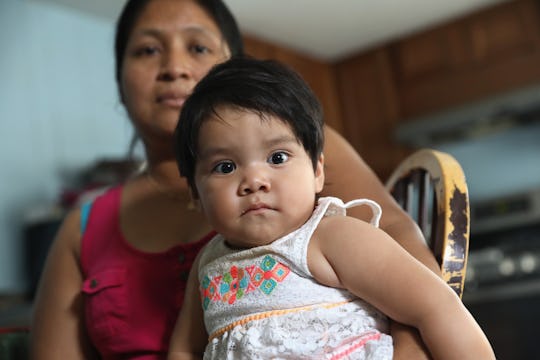 John Moore/Getty Images News/Getty Images
A Judge Halted Deportations Of Immigrant Parents Reunited With Kids — For Now
On Monday, as a response to a filing by the American Civil Liberties Union claiming the government has refused to deny "that mass deportations may be carried out imminently and immediately upon reunification," a judge halted deportations of immigrant parents separated from children after they're reunified. Now, reunited families who were separated by the Trump administration after crossing the border temporarily can't be deported, according to TIME. Judge Dana Sabraw of the Southern District of California has ordered the government to delay deportations a week after reunification, so that parents have more time to decide whether they're going to be deported with their children, or go alone and leave their kids in the United States to try to make their own claim of asylum, USA Today reported.
Notably, Sabraw is the same judge who previously ordered the government to reunite families, according to NPR. He's now ordered the temporary halt to deportations, and lawyers for the Trump administration have until Monday, July 23 to reply to the ACLU's motion. This just goes to show how quickly things can move when it comes to the complicated situation that is reuniting immigrant parents with their kids, and deciding how to handle the families looking for safe haven in the U.S.
The ACLU complained in a hearing Monday that it was hearing that the Trump administration planned immediate "mass deportations" for immigrant parents once they were reunited with their children, with no time to consider their choices, Bloomberg reported. Lawyers from the organization were concerned that they would not be able to meet and represent the immigrant families, particularly those who make asylum claims, if they were so quickly deported, NBC News reported.
The ACLU said in its filing, according to Bloomberg:
Due to their unlawful separations, parents and children have had no chance to have meaningful conversations with one another about the family's collective options.
Justice Department attorney Scott Stewart said in court that the Trump administration opposes the delay in deportations, and will file a briefing in response by the July 23 deadline, Politico reported.
Last month, Sabraw ordered the government to reunite the thousands of children and parents who were separated at the border, The Houston Chronicle reported. They were separated this spring thanks to the Trump administration's "zero tolerance" immigration policy. Sabraw set a deadline of July 10 for children under 5 to reunite with their families, and gave the government until July 26 to reunite 2,551 children between the ages of 5 and 17, according to The Houston Chronicle.
The government claimed last week that it had reunified all 57 eligible kids under 5 covered by Sabraw's original order, except for those whose parents had been deported or have criminal records, NBC News reported.
The next step is for Sabraw to hear from the government and ACLU lawyers representing migrant parents separated from their children on July 23, when he is expected to make a final decision on how quickly immigrant families who have been reunited can be deported. But in the meantime, the deportations of immigrant families that have been reunited are halted — but only temporarily.
Lee Gelernt, a deputy director for the ACLU's Immigrants' Rights Project who has been arguing the case, said of the temporary development, according to NPR:
The judge once again made clear that the government unconstitutionally took these children away and now must do everything in its power to reunite them safely and by the deadline.
In general, Sabaw has been critical of how long the family reunifications are taking. He scolded the Department of Health and Human Services for taking so long to reunite immigrant children in its care with their parents being held in different government facilities, according to USA Today.
However, Sabraw said he will consider lifting his order after U.S. officials file more legal arguments, Bloomgberg reported. He is expected to make his final decision on how quickly reunified families can be deported on July 23.
Sabaw has said that the safety and welfare of the kids is important, USA Today reported, which is likely something most child advocates can agree on, regardless of their political leanings or feelings on the immigration crisis at the border.