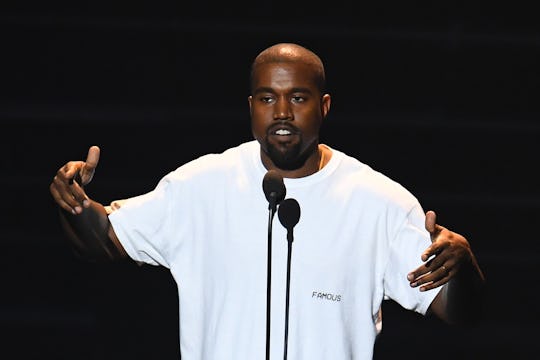 JEWEL SAMAD/AFP/Getty Images
A Kanye West, Drake Collaboration Is In The Works, & It's A Miracle
In late August, a mysterious billboard bearing the record label logos of two of the most influential rappers of our time appeared in Los Angeles. It was cryptic and vague, but seemed to portend magical things. Now, its message is clear and fans are rejoicing: A Kanye West/Drake collaboration is in the works, West confirmed in a Vogue profile Wednesday. He didn't provide a release date, he didn't so much as hint at any additional details, like — swoon — the possibility of a joint tour, but this is the best music news to happen since Lemonade, and it's sure to fire up those who've been excitedly speculating about a shared project between Beyoncé and her husband, Jay Z (the alleged main subject of the album), since the visual album's April release.
During a sit-down with Vogue's Dirk Standen, West briefly commented on the suspected meaning of the billboard, which read "calabasas is the new abu dhabi." For reference, Calabasas is the Los Angeles suburb where both West and Drake live. (West's label, G.O.O.D. Music, tweeted a photo of the giant sign, appearing to verify its authenticity.) "We're just working on music, working on a bunch of music together, just having fun going into the studio," he said. "We're working on an album, so there's some exciting things coming up soon."
Oh, just working on some music? This sounds like a way bigger freaking deal to me than "just working on an album" to me.
And West clearly knows how to garner interest in this project, as he also alluded to the album onstage when he appeared at Drake's OVO Festival in Toronto in early August. "Toronto, is y'all ready for this album?" he asked the crowd as Drake joined in onstage. "I'm not talking about Pablo. I'm not talking about Views. I want to ask y'all right now: y'all ready for this album?"
He pointed at Drake as he said it, and the crowd went nuts. And now, I'm going nuts because I'm thinking about the original version of "Pop Style" from Drake's most recent album, Views, which features both West and Jay Z. I'm thinking about the West' and Jay Z's own 2011 collaborative album, Watch the Throne, and flipping out over what West and Drake can do together when they team up.
As their fans go crazy waiting for the album, both rappers have a lot going on to keep themselves busy. West is in the middle of the North American leg of his Saint Pablo Tour, and he debuted his Yeezy Season 4 clothing line during New York Fashion Week Wednesday. Having released the 12-minute-long music video for his song "Child's Play" this week, Drake is officially in a relationship with Rihanna, whom he confessed to having been in love with since he was 22 at the MTV Video Music Video Awards last week.
Essentially, all is well and good in the House of Drizzy and Ye.