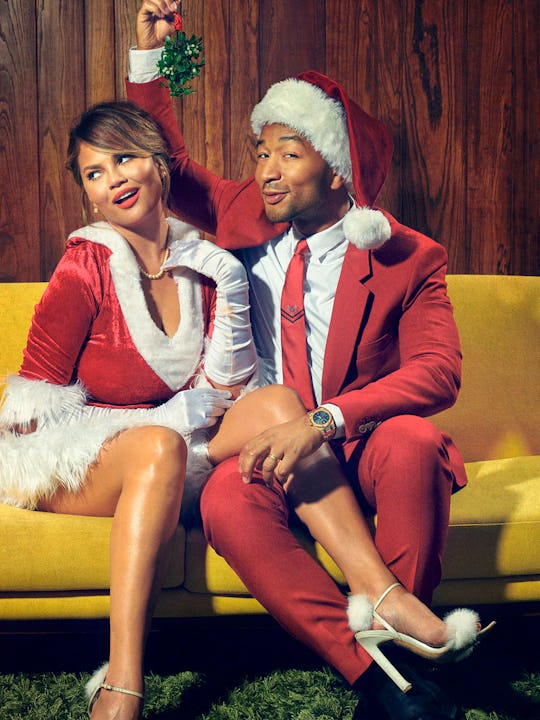 NBC
'A Legendary Christmas' Has Given The Gift Of A John And Chrissy Sitcom
Let's face it: We're all huge fans of the Legend family, and can't get enough of them on our screens. And with their new holiday special airing, I think there's a new collective dream: A Legendary Christmas has Twitter wanting a John Legend and Chrissy Teigen sitcom right now.
If you're not tuning in... well, why? Here's the gist: The Legend-Teigens are hosting a party for all of their celebrity pals this holiday season, and it's lit. Everyone from Kris Jenner to Darren Criss makes an appearance in this *very special* event. The party is, as all things Chrissy, very real. Teigen is stressed, cooking, and Legend is just drifting around being his charismatic self and offering up some delightful tunes along the way. Teigen is always ready with a joke or a wink and nod at the audience.
And things are as corny as you would expect. Channeling a '90s sitcom, complete with laugh track, the special has callbacks to things only true fans would know, like the epic mac and cheese battle between the couple. But don't just take my word for it: The special is lighting up Twitter like a Christmas tree, and in a very good way.
Completely agreed. They're everyone's favorite couple, and now that everyone knows they both have comedy chops, nobody can think of anything else. Or — they could just repeat this gold every year.
A petition could work? We all know how much they love their fans. Maybe they'd be on board if we show them how much we want this. Sign me up!
NBC, hire this person immediately. How did you miss this obvious title?
Yup. In a year that has lasted approximately five decades, A Legendary Christmas is a shining beacon of hope.
Laugh tracks are back, people. Get used to it!
And how about their co-stars? Two of Park & Recreation's most under-appreciated stars, Retta and Ben Schwartz, made notable and hilarious appearances.
Oh wow, can we talk about this? John is both Arthur and Toad. How did I miss this?
Teigan has never exactly been shy about not liking her own voice (especially when in the company of her songbird husband). But she showed some serious appreciation for what The Voice contestants do every week, while taking jabs at Legend and his co-hosts on the singing competition show.
OK this is the golden age of TV... but this Twitter user is right, we would definitely watch this on a weekly basis, even if it's not holiday-themed.
OK so we have Christmas, Easter... I'm good with the Fourth of July, but I think Halloween should definitely be on this list. Teigen would make an excellent witch (in a good way, of course).
OK, so we're all in agreement now, right? Seeing this couple and their adorable family just once a year on TV isn't enough. Social media is great and all, but let's get them their own sitcom. Long live Chrissy Teigen and John Legend.
This first-time mom wants to have a home birth, but is she ready? Watch how a doula supports a military mom who's determined to have a home birth in Episode One of Romper's Doula Diaries, Season Two, below. Visit Bustle Digital Group's YouTube page for the next three episodes, launching every Monday starting November 26.