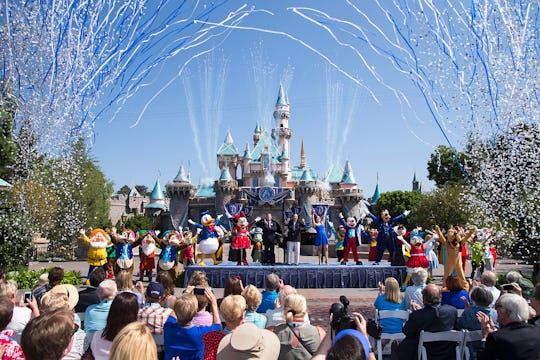 Handout/Getty Images Entertainment/Getty Images
A Legionnaires' Outbreak May Have Started At Disneyland, & Here's What That Means For Your Vacation
Recently, several people were infected with a fairly rare respiratory condition at Disneyland in Southern California. And no, it wasn't a poisoned apple that made them sick. A Legionnaires' disease outbreak near Disneyland infected 12 people, which might seem a little scary to parents planning a trip to the park with their kids. But outbreaks of Legionnaires' are hardly confined to "the happiest place on Earth." And it sounds like Disneyland is being really proactive about taking steps to stop the outbreak in its tracks, so anyone planning a trip shouldn't cancel just yet.
Disneyland shut down two different cooling towers that had high levels of the Legionnaires' bacteria twice in the past two weeks, according to Newsweek. This was after 12 people who had spent time in Anaheim, California about three weeks ago reported their illnesses; nine of those 12 had visited Disneyland in September before developing Legionnaires', according to The Los Angeles Times. Because not all of those affected visited Disneyland, it's clear the park itself isn't what cause the outbreak. The other three infected were reportedly Orange County residents who didn't go to the park, but instead lived or traveled in the city.
Legionnaires' disease is "a severe, often lethal, form of pneumonia," according to Legionella.org. It is caused by the bacterium Legionella pneumophila, which is found in potable and nonpotable water systems — hence the issue with the cooling towers. Every year, an estimated 10,000 to 18,000 people are infected with the Legionella bacteria in the United States, according to the organization.
Ten of the people infected were hospitalized as a result of the sickness, and one "with additional health issues" died, health officials reported. However, the person who died didn't visit Disney, and those affected were reportedly 52 to 94 years old. So parents planning a visit to the park with their kids in the future may want to hold off on canceling all of their plans due to the outbreak, because, so far, no children have become sick, and Disneyland is already working to correct the issue on its property.
Eight of the cases involve people who visited Disneyland and one person worked at the park, according to The Orange County Register. Because of the outbreak, Disneyland voluntarily shut down the two aforementioned cooling towers, which are in a backstage area of the theme park, so it is working to take care of the issue.
The Orange County Health Care Agency, which is investigating the outbreak, has not yet identified a common exposure source for all of the infections, Jessica Good, a spokeswoman for the agency, told The Orange County Register. So the cooling towers might not be the only reason so many people in the area have gotten sick, but Disneyland is taking precautions anyway.
The cooling towers in question are a "heat rejection device, which extracts waste heat to the atmosphere though the cooling of a water stream to a lower temperature," according to the Cooling Technology Institute. Water droplets are carried out of the cooling tower with exhaust air in what is known as a "drift," and, presumably, that's one way bacteria from within the towers could spread.
Outbreaks of Legionnaires' may actually be more likely than many think, because apparently, where there are cooling towers, there is Legionnaires'. The CDC recently found evidence that Legionnaires' was living or had lived in 84 percent of almost 200 cooling towers tested in the United States, Newsweek reported. Places like office buildings and airports with similar towers can be affected just as easily as Disneyland.
Authorities said they haven't connected other cases of Legionnaires' to Anaheim since September, according to The Los Angeles Times. It may have helped that when Disneyland received word that towers in its parks may have contributed to the outbreak, it took action.
Dr. Pamela Hymel, Chief Medical Officer for Walt Disney Parks and Resorts, told Romper in a statement:
On October 27, we learned from the Orange County Health Care Agency of increased Legionnaires' disease cases in Anaheim. We conducted a review and learned that two cooling towers had elevated levels of Legionella bacteria. These towers were treated with chemicals that destroy the bacteria and are currently shut down. We have proactively shared this information with OCHCA and given our actions, they have indicated there is no longer any known risk associated with our facilities.
Hymel also noted that Legionnaires' disease is not contagious from person to person, and "additional redundant testing" of other cooling towers on the property was implemented out of caution.
Even if the infected became sick because of the two potentially-contaminated cooling towers at Disneyland, they are not currently in service, so parents who might be concerned about exposure on an upcoming visit can put that concern aside.
Parents might want to keep in mind that areas in Anaheim may still be affected, though. Disneyland will still be there for kids and adults alike to enjoy no matter when parents decide it's safe to bring their kids to the theme park.