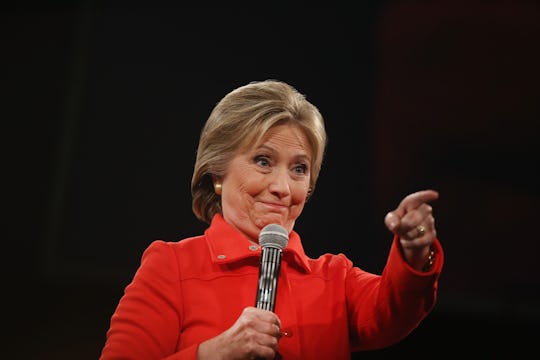 Scott Olson/Getty Images
A "Little Feminist" Wrote To Hillary Clinton And It Might Be The Sweetest Start To A Political Career, Ever
If you need a reminder that kids really are worth the effort, I'm here to help. Or rather, the Clinton campaign is here to help, as a note from one of the Democratic candidate's youngest supporters gained some viral steam on Tuesday. At 12 years old, Olivia (whose last name has been redacted because: the internet) is already a "huge fan" of the woman who might become the nation's first female president. And the letter this "little feminist" wrote to Hillary Clinton might actually be the sweetest start to a career in politics that I've ever seen.
According to her letter, Olivia lives in Brooklyn with her two dads and her twin brother, Spencer. The preteen explains that because of her special needs, she attends Mary McDowell Friends School, described on its website as one of New York's leading schools for children with learning disabilities. Because the school is so expensive, Olivia writes, she wishes there were more public school options for kids like her.
Whether that will happen in a Clinton presidency is still unclear. Clinton has focused mainly on college affordability. So her stance on more divisive K-12 issues like teacher compensation, school choice, accountability, and special education funding are less clear.
Still, the democratic front-runner is gaining steam among the nation's educators: the American Federation of Teachers is firmly in the Clinton camp, and an endorsement from the National Education Association's political arm early last month is considered a decent sign that the nation's largest teacher's union (and one of the country's most powerful political forces) may soon follow.
Olivia finishes her letter by saying that she is "a huge fan" of Clinton's and hopes the candidate "can be the first woman President of the United States!" And the pre-teen is more than willing to do her part to help make that happen: in the letter, she volunteers to work on the Clinton team in its nearby Brooklyn headquarters. That might be the best start to a political career that I've ever heard of.
This isn't the first time that the Clinton team has shared Olivia's message. Several weeks ago, her letter was posted on Clinton's campaign website and shared on the candidate's Twitter feed. Of course, it's been retweeted hundreds of times and as is the norm for Twitter reactions to it pretty much ran the gamut.
A few folks doubted the letter's authenticity.
But other reactions were encouraging and even pretty touching.
But the part that got my eyes sweating is that the Clinton team didn't just post Olivia's message, they posted a really sweet response — apparently crafted by Clinton herself:
Thank you for writing to me; it put a smile on my face. … Please know that I join your dads in cheering you on for great success. Keep up the great work, always care deeply about what you believe in, and never stop reaching for the stars!
Never stop, young Olivia.
You can read the (completely adorable) letter in full below, or over at the Clinton campaign website:
Dear Hillary Clinton,
My name is Olivia [redacted] and I am 12 years old. I have two dads named [redacted] and [redacted]. I also have a twin brother named Spencer [redacted]. I go to a school called Mary McDowell Friends School. The school is for kids with learning disabilities, I have dyslexia and ADHD which stands for Attention-Deficit-Hyperactivity Disorder. The school is fairly expensive and I wish that there were more public schools that can help kids with dyslexia like me. My school is in Brooklyn so I would be completely willing to help you out after school. I bet I would be the youngest member of your campaign.
I am a huge fan of yours, and I really hope you become President. I am a little feminist growing up to help all women with equal rights. I hope you can be the first woman President of the United States! By the way I'm really glad that there is now gay marriage legal all around the whole 50 states of America!
Your hopeful friend,
Olivia
Image: Scott Olson/Getty Images